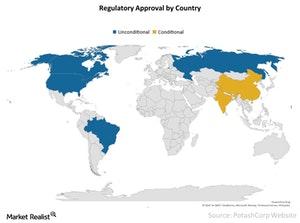 China and India Gave PotashCorp-Agrium Merger Conditional Approval
By Adam Jones

Dec. 29 2017, Updated 9:01 a.m. ET
Conditional approvals
In the earlier part of this series, we briefly touched on conditional approvals for PotashCorp's (POT) and Agrium's (AGU) merger. In addition to the regulatory approval from the US (MOO), this merger has also received approval from Canada, Russia, India, China, and Brazil. However, China and India have given conditional approval to this merger as we'll discuss below.
Article continues below advertisement
Approvals from India and China
India approved the PotashCorp-Agrium merger on the condition that PotashCorp divests its minority interests in Israel Chemicals, Arab Potash, and Sociedad Química y Minera de Chile within 18 months of the approval.
China set a precondition on the PotashCorp-Agrium merger that allows PotashCorp to sell minority interests in Arab Potash, Sociedad Química y Minera de Chile (SQM), and Israel Chemicals (ICL). PotashCorp is also required to convert its active investment in Sinofert Holdings to a passive investment.
Other mergers to watch
With the PotashCorp-Agrium merger completed, the agribusiness industry (MOO) awaits the merger of two big giants Monsanto (MON) and Bayer. The merger between these two companies has faced delays from regulators in certain regions, particularly from Brazil, the European Union, and Russia.
The market appears to be cautious, as Monsanto stock is trading well below the merger price of $128. As of December 27, Monsanto closed at $116.4 per share.
To learn more about recent updates on this merger, read The Bayer-Monsanto Merger Deal: An Update.