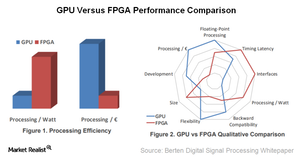 Other Competition Accelerators for NVIDIA Today
By Puja Tayal

Dec. 25 2017, Updated 10:32 a.m. ET
Would accelerators other than GPUs find a market?  
To be sure, NVIDIA (NVDA) is facing strong competition from chip giant Intel (INTC), which is moving aggressively in the AI (artificial intelligence) space through various acquisitions and organic growth efforts.
But Susquehanna Financial Group analyst Chris Rolland pointed to another vein of competition arising from other accelerators like ASICs (application-specific integrated circuits) and FPGAs (field-programmable gate arrays). Rolland stated that ASICs could lead the AI space in the long-term because they can be customized for specific workloads and deliver better performances than GPUs. Bitcoin miners have already switched from GPUs to ASICs, as the calculations become harder and need higher processing power to solve these complex problems.
Article continues below advertisement
Rolland also noted that ASIC suppliers like Broadcom (AVGO), Marvell Technology Group (MRVL), and Microsemi (MSCC) could witness stronger growth in 2018. Rolland acknowledged that NVIDIA will likely continue to be a key player in the AI space, but its market share might not be as high as it is today.
NVIDIA's response
At the Credit Suisse Technology, Media, and Telecom Conference, NVIDIA's chief financial officer, Colette Kress, responded to analyst concerns regarding the emergence of other accelerators such as FPGAs and ASICs.
Kress noted that FPGAs are programmable chip designs that have the flexibility to become any chip. This feature gives it an advantage in specific workloads, but NVIDIA's GP-GPUs (general-purpose graphics processing units) have the advantage of a CUDA programming environment.
Kress also stressed that NVIDIA has spent more than ten years developing a CUDA API (application-programming interface). Around 5,000 engineers work on CUDA API developing several libraries, solvers, compilers, graph analytics, cloud platforms, and virtualization stacks. For this reason, writing software has become easier, making GPUs easier than FPGAs and ASICs to use.
Kress also noted that CUDA makes the GPU architecture useful to everyone. CUDA is also optimized across all of NVIDIA's GPUs and AI frameworks. This makes it easier for users to upgrade their GPUs without much effort and shows that while other accelerators are better performers in specific applications, NVIDIA is good in general-purpose applications. This will likely be the strategy it intends to use to gain a dominant share in the AI space.