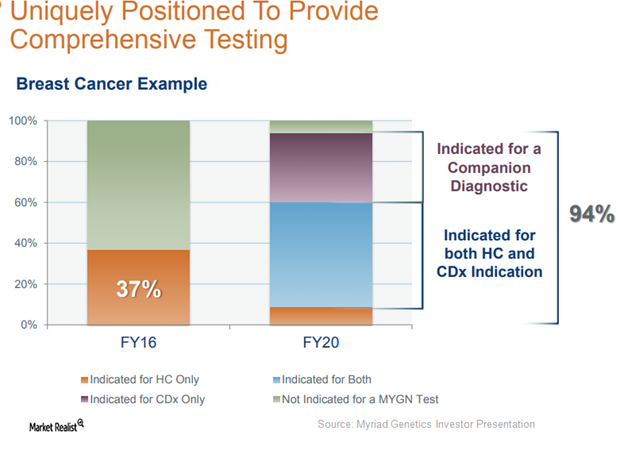 Companion Diagnostics May Be Major Opportunity for Myriad Genetics
By Margaret Patrick

Dec. 4 2017, Updated 4:20 p.m. ET
Companion diagnostics growth prospects
Myriad Genetics (MYGN) expects to attain a penetration level of 4% in the companion diagnostics segment by 2020. The company is currently targeting around 58,000 ovarian cancer patients with its BRACAnalysis CDx test. Myriad Genetics also aims to secure U.S. Food and Drug Administration (or FDA) approval for myChoice HRD as a companion diagnostic test to be used to predict the response to platinum-based chemotherapy in the target population of around 95,000 triple negative breast cancer patients. The company has also planned to expand its companion diagnostic portfolio to benefit around 107,000 metastatic breast cancer patients and approximately 120,000 HER2- breast cancer patients. The company is also working on additional companion diagnostic tests that can help predict drug responses in neoadjuvant and adjuvant breast cancer settings with a target patient population of 143,000 and 194,000, respectively.
Article continues below advertisement
Myriad Genetics is also evaluating multiple companion diagnostic tests that can benefit around 80,000 metastatic prostate cancer patients and close to 102,000 pancreatic cancer patients by 2020. Beyond this timeframe, the company will explore companion diagnostic opportunities that could benefit 278,000 colon cancer patients, 114,000 gastric cancer patients, and 50,000 head and neck cancer patients. Myriad Genetics makes up about 0.21% of the iShares Russell 2000 Value ETF's (IWN) total portfolio holdings.
Growth trajectory
In fiscal 2016, Myriad Genetics' approved product portfolio could target 37% of the total breast cancer patients in the hereditary cancer indication. By fiscal 2020, the company plans to expand its portfolio in both the hereditary cancer and companion diagnostics segment to target 94% of the total breast cancer patients.
Companion diagnostic tests manage to secure reimbursement much faster than CLIA molecular diagnostic tests. Additionally, Myriad Genetics shares promotional expenses for these tests with its partners. Companion diagnostic tests also enjoy rapid adoption.
Thermo Fisher Scientific (TMO), Roche Holdings (RHHBY), and Johnson & Johnson (JNJ) stand to benefit from these trends in the companion diagnostic segment.
In the next article, we'll discuss Myriad Genetics' portfolio of companion diagnostic tests in greater detail.