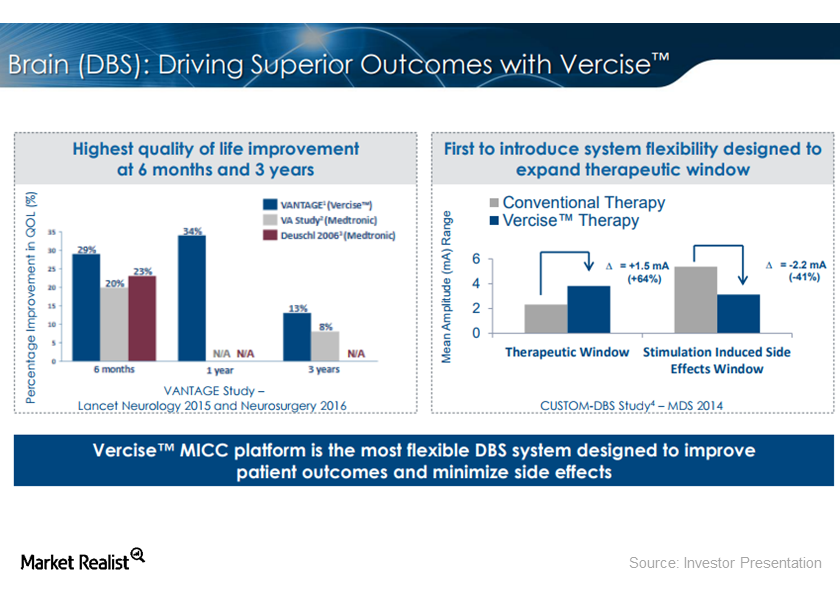 Boston Scientific Stock Triggered by FDA Approval of Vercise DBS
By Sarah Collins

Dec. 21 2017, Updated 7:32 a.m. ET
Overview
On December 11, 2017, Boston Scientific (BSX) stock rose 3%, triggered by FDA (U.S. Food & Drug Administration) approval of its Vercise DBS (deep brain stimulation) system. The system was launched in Europe in 2012. The first commercial implant of the system will take place at the University of Minnesota Medical Center in Minneapolis.
On December 11, 2017, the Vanguard Total Stock Market ETF (VTI) rose 0.23%. BSX accounts for ~0.13% of VTI's total portfolio.
Article continues below advertisement
What is DBS?
DBS is a therapy for the treatment of the symptoms of Parkinson's disease, a degenerative condition of the central nervous system that causes movement disorder. In DBS, a targeted region of the brain is stimulated through leads implanted in the brain and powered by an IPG device. BSX's Vercise IPG (implantable pulse generator) is the smallest, rechargeable DBS device in the United States. Its battery life can be more than 15 years, depending on use.
Vercise approval based on the INTREPID study
The approval of BSX's Vercise DBS system was based on the INTREPID study. The study was the first multi-center, double-blind, randomized, controlled study of DBS for Parkinson's disease carried out in the United States. It included 292 patients from 23 sites and evaluated the device's safety and effectiveness.
The VANTAGE study, a European multi-center, single-arm, prospective study, also supported the 510(k) filing for the Vercise DBS device.
Management's view
Maulik Nanavaty, president of the Neuromodulation division of Boston Scientific, said, "This approval marks an important step for patients who will now have the choice to be treated with one of the most innovative neuromodulation technologies available today. Our system stands apart from the field in its approach and is changing the traditional definition on how we can leverage technology to treat patients with Parkinson's disease."
Medtronic (MDT) is the leading player in the DBS market. Abbott Laboratories (ABT) entered the market with the acquisition of St. Jude Medical in January 2017. Nevro (NVRO) is another key player in the neuromodulation market in the United States but hasn't entered the DBS space.