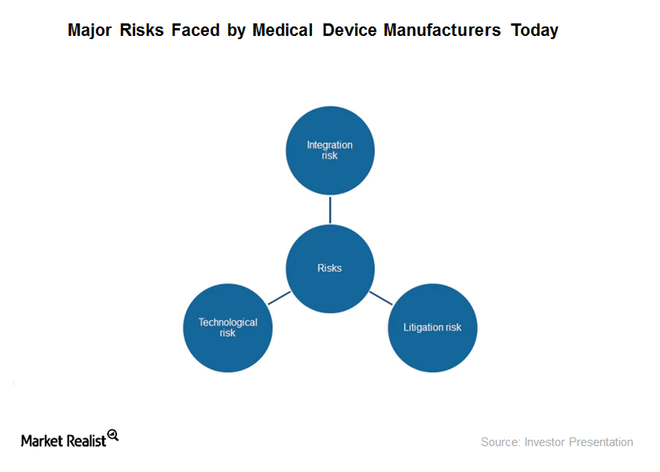 Boston Scientific Settles Some 5-Year Lawsuits on 350 Pelvic Mesh
By Sarah Collins

Dec. 21 2017, Updated 9:01 a.m. ET
Pelvic mesh implant
Boston Scientific (BSX) has been in litigation for five years over numerous product liability claims involving its pelvic mesh implant. The plaintiffs have alleged that the company's defective meshes have caused them grave injury. The device is used for the treatment of pelvic organ prolapse and female stress urinary incontinence.
On December 14, 2017, a federal judge in West Virginia approved the settlement of more than 350 cases that had been going on for nearly five years. The verdict follows the joint motions filed by Boston Scientific and the plaintiffs for dismissal of these cases with prejudice. The amounts of the settlements are not yet known. The company has already paid a significant sum for damages in other pelvic mesh cases over the past few years. Recently, in October 2017, the company paid about $27 million to a plaintiff who won a product liability lawsuit involving BSX's Pinnacle pelvic mesh. Earlier, in May 2017, Boston Scientific won a product liability suit over its Uphold pelvic mesh in a federal appeals court.
Article continues below advertisement
As shown in the diagram above, litigation is one of the key risks in the medical device industry. Recently, Medtronic (MDT) agreed to pay more than $12 million for a deceptive marketing claim in a litigation over its Infuse bone graft device. Stryker (SYK) and Zimmer Biomet Holdings (ZBH) recently settled a one-year-long sales representative poaching lawsuit.
On December 14, 2017, BSX stock fell 0.35%. The iShares Russell 1000 Growth (IWF) fell 0.27% that same day. BSX accounts for 0.28% of IWF's total portfolio holdings.
Status of pelvic mesh cases
As of October 25, 2017, there were still about 48,500 litigations still pending for BSX's transvaginal mesh. These cases include eight putative class action lawsuits that are pending in various states and federal courts in the United States. According to International Risk Management Insitute, a putative class action lawsuit is "a lawsuit brought by one or more named plaintiffs on behalf of a potential group of similarly situated individuals (known as a class) who allegedly suffered a common claim."
Approximately 20 cases are pending in Canada and 25 in the United Kingdom. As of October 25, 2017, Boston Scientific claims to have entered into master settlement agreements for approximately 44,000 cases. The conditions of the settlements have been met and finalized for approximately 15,500 of those cases.