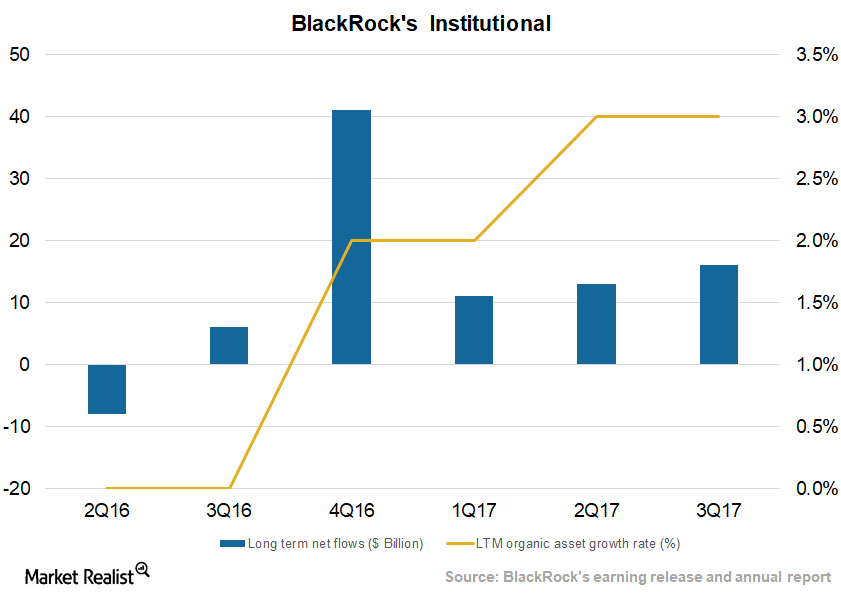 BlackRock's Institutional Assets Preferring Debt in Medium Term
By Robert Karr

Dec. 7 2017, Updated 7:30 a.m. ET
Institutional assets
BlackRock (BLK) continues to attract most of its funds from institutional clients, which form 56% of its total assets under management. The company manages $3.3 trillion as of September 30, 2017, divided into $1.1 trillion in active funds and $2.2 trillion in index funds. Institutional clients have consistently increased allocation toward index funds in both equity and debt offerings, reflecting a preference for low-cost offerings.
Article continues below advertisement
Withdrawal from equities
In 2018, institutional clients might allocate more funds toward active and passive management amid rising cash flows and wealth on existing investments. BlackRock added $37 billion in fixed income index offerings, partially offset by an outflow of $20 billion from equity index offerings, resulting in a net addition of $16 billion. Institutional investors also withdrew $3.3 billion from active equity offerings, partially offset by $3.5 billion of investments in multi-assets and $0.5 billion in fixed income active offerings.
They also withdrew $0.5 billion from alternatives. Asset managers (VFH) target institutional clients in a bid to add assets on a larger scale for management. Goldman Sachs (GS) and Blackstone Group (BX) attract institutional clients for active fund offerings. State Street (STT) is adding new funds to index fund offerings.
Strong earnings
BlackRock earned total base fees of $738 million in 3Q17 from institutional offerings, forming 27% of its total fees. Institutional clients typically enjoy lower fees for every dollar managed compared to retail clients. The division's assets increased by $131 million sequentially due to a $71 million rise in equities, $16 billion in inflows and fixed income, and the exchange rate.
Institutional investors' withdrawal from equities and their investment in debt reflect lower return expectations from equity investments in the current quarter.