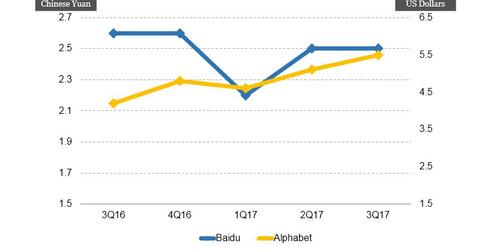 How Baidu's and Alphabet's Results Differed in 3Q17
By Neha Gupta

Updated
Baidu's ad sales grow 22%
Baidu (BIDU) is often referred to as the "Google of China," given that it is the dominant Internet search provider in China (MCHI) and Chinese-speaking areas. Google is Alphabet's (GOOGL) largest unit in terms of revenue and profits. Baidu and Google both look to online advertising for the majority of their revenue.
Both Baidu and Alphabet grew their advertising revenue in 3Q17, but Baidu's advertising sales grew faster. While Baidu's advertising sales grew 22% YoY (year-over-year), Alphabet's advertising sales grew 21.4% YoY.
Advertising represented 85.5% of Baidu's total revenue in 3Q17. At Alphabet, Facebook (FB), and Twitter (TWTR), advertising represented 86.7%, 98.2%, and 85.3%, of total revenue, respectively, in 3Q17.
Article continues below advertisement
Mobile fuels top-line growth at both Baidu and Alphabet
Mobile drove advertising revenue at Baidu and Alphabet in 3Q17, with Alphabet reporting that its 24% growth in total revenue in 3Q17 was powered by "tremendous results in mobile search." Baidu said mobile represented 73% of its total revenue in 3Q17.
Baidu's and Alphabet's traffic costs move in opposite directions
While Baidu's and Alphabet's 3Q17 results largely pointed in the same direction, they departed from each other when it came to TACs (traffic acquisition costs). While TACs fell YoY at Baidu, they rose at Alphabet. According to Alphabet, the shift to mobile is driving its TACs "because more mobile searches are channeled through paid access points."
In 3Q17, Baidu's TACs fell 19.2% YoY and represented 12.4% of advertising revenue. At Alphabet, TACs rose 31% YoY and represented 23% of advertising revenue.