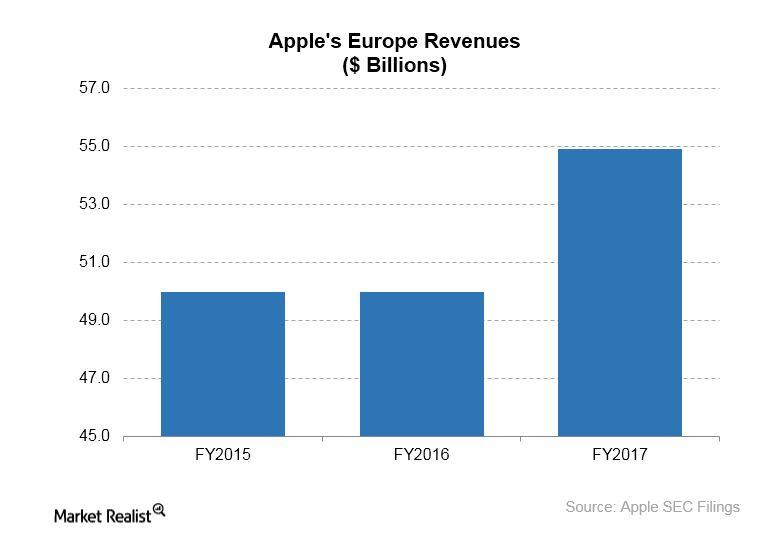 Apple's $47 Billion Potential Tax Savings
By Ruchi Gupta

Dec. 13 2017, Updated 7:35 a.m. ET
Apple's estimate put tax liability at $78.6 billion
Apple (AAPL) is viewed as one of the biggest potential beneficiaries of the US (SPY) tax reform that's working through US Congress. If the tax reforms that Republican leaders are pushing go through, offshore profits repatriated by American companies would be taxed at a rate no higher than 14.5%, compared with the applicable rate of 35% today.
The Financial Times recently calculated that the proposed US tax code overhaul could save Apple more than $47 billion in tax liability on repatriated cash. Apple estimated that its tax liability on foreign earnings would be $78.6 billion under the current tax regime. However, the paper calculated that Apple's tax liability would be roughly $31.4 billion under the proposed tax on repatriated offshore profits.
Article continues below advertisement
Different tax rates for different forms of earnings
Therefore, the difference between Apple's tax liability under the present and proposed tax scenarios works out to $47.2 billion. In its calculation, the newspaper estimates that Apple is keeping roughly $252.3 billion of its foreign profits in cash and about $50 billion in investments. The tax bill passed by the US Senate proposes a 14.5% tax on foreign earnings held in liquid form and a 7.5% tax on foreign earnings that have been reinvested.
Europe pursuing Apple over back taxes
In Europe (EFA), the European Union's (EZU) executive arm, the European Commission, demanded that Apple pays nearly $15 billion in back taxes to Ireland over an alleged unlawful tax arrangement between the company and the Government of Ireland.
If Apple is made to part with the $15 billion tax that the EU demands, its US tax liability under the proposed tax rate on repatriated cash could come down to just $29.3 billion from an estimated $31.4 billion.
Apple generated about 24% of its revenues in Europe in fiscal 2017 (ended September 2017), and Japan (EWJ) alone contributed 7.7% of revenue in the year.