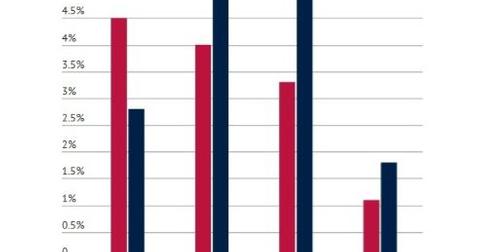 Could Apple Pay Cash Stimulate Apple Pay Uptake?
By Ruchi Gupta

Updated
Apple Pay Cash rolling out first in the US
Apple (AAPL) recently began rolling out the mobile money transfer service that it had promised earlier this year. Apple Pay Cash functions like PayPal's (PYPL) Venmo or Square's (SQ) Square Cash by allowing users to send money to friends and family in a P2P (person-to-person) format.
Apple Pay Cash is initially rolling out in the US (SPY), but Apple is eventually expected to make it available overseas, as it has done with its flagship Apple Pay, which lets users pay for store purchases. In addition to North America, the flagship Apple Pay is available in Europe (EFA) and Asia in markets such as the UK (EWU), Japan (EWJ), and Australia.
Article continues below advertisement
Bank transfer or store spending
Funds received through Apple Pay Cash can be transferred to a bank account for withdrawal or spent at stores where Apple Pay is accepted. McDonald's (MCD), Best Buy (BBY), and Staples are some of the major stores in the US that accept Apple Pay.
Although Apple claims that 50% of US retailers now accept Apple Pay, some researchers have portrayed consumer uptake of the service as slow. For example, research firm Crone Consulting predicts that Wal-Mart Stores' (WMT) Walmart Pay will overtake Apple Pay in terms of US usage by the end of 2018. Walmart Pay launched more than a year after Apple Pay.
Money transfer service could entice more people to Apple Pay
A study by Pymnts.com and InfoScout also found that just 5.5% of iPhone owners used Apple Pay at stores in June, compared with 5.1% of Walmart shoppers who reported using Walmart Pay.
However, the addition of a money transfer service to Apple's mobile payments offerings could stimulate uptake and the use of Apple Pay—especially among iPhone owners who may have been reluctant to endorse it previously.