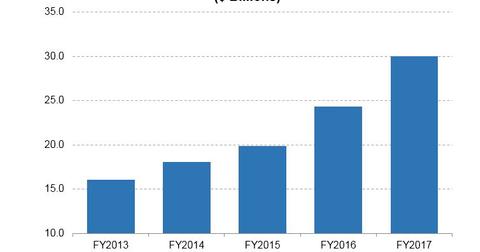 Where Apple Pay Cash Fits into Apple's Overall Ambitions
By Ruchi Gupta

Updated
Apple Pay global rollout
Given what Apple (AAPL) has publicly shared about its ambitions, there's little doubt about the role that Apple Pay Cash is expected to play. Apple Pay Cash is Apple's P2P (person-to-person) money transfer service that is rolling out in the US (SPY).
Apple Pay Cash is an addition to Apple's mobile payments offerings, which include Apple Pay, a service that lets people pay for store purchases from their mobile device without having to scan a code. Apple is expecting to make Apple Pay available in 20 countries by the end of this year as part of its ongoing global rollout of the service. Offshore markets that already have Apple Pay include Australia, Japan (EWJ) and the UK (EWU).
Apple increases service revenue streams
Apple Pay is one of the sources of Apple's service revenues. Others include Apple Music and Apple's App Store, its app distribution center that is equivalent to Google's (GOOGL) Google Pay Store. The launch of Apple Pay Cash expands Apple's payments services and opens up another source of service revenue.
Doubling service revenues
Apple made a target to double its fiscal 2016 service revenues by the end of 2020. In fiscal 2017 (ended September), the company reported service revenues of $30 billion, up from $24.3 billion in fiscal 2016.
Doubling its 2016 services revenue would mean that Apple is expecting its services revenues to exceed $48 billion by 2020. Notably, $30 billion in service revenues in 2017 would mean that the company has a gap of at least $18 billion to cover in order to reach its goal, and it appears to be a bet that services like Apple Pay Cash cab could accelerate the closing of this gap.