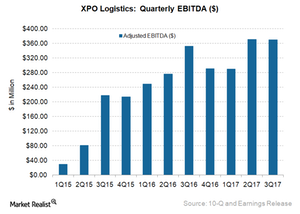 XPO Logistics: What Led the Rise in Its 3Q17 Earnings?
By Samuel Prince

Updated
XPO's Logistics' 3Q17 EBITDA
Previously in this series, we reviewed the performance of the Logistics vertical of XPO Logistics (XPO). Now, let's analyze the company's EBITDA[1. earnings before interest, tax, depreciation, and amortization] levels in 3Q17.
XPO's adjusted EBITDA in that quarter stood at $369.6 million compared with $352.7 million in 3Q16. On a YoY (year-over-year) basis, this translates into a 4.8% rise.
XPO's reported EBITDA totaled $354.1 million in 3Q17, up 9.1% from the levels recorded in 3Q16. XPO was able to grow its EBITDA margin by 20 basis points to 9.1% in 3Q17 from 8.9% in 3Q16.
Segmental margins in 3Q17
XPO Logistics saw its Transportation segment's operating income rise to $145.2 million in 3Q17 from $125.4 million in 3Q16. The segment's adjusted EBITDA was $265.0 million compared with $253.3 million in 3Q16.
Higher operating income from XPO's European transportation, North American last-mile, and freight brokerage operations pushed the Transportation vertical's operating income and EBITDA.
The Logistics segment's operating income rose to $77.4 million in 3Q17 from $75.3 million in 3Q16. Its adjusted EBITDA grew to $135.0 million compared with $125.7 million in 3Q16.
Growth in net revenues, which was offset by increased direct operating costs associated with new contract startups, led the rise in the Logistics division's operating income and EBITDA.
Peer group's operating margins
As a result of the integration of these new businesses, XPO Logistics incurred significant non-recurring costs that impacted the reported operating margins and EBITDA. However, analysts expect the company to grow its margins 1%–2% over the next few quarters.
Below, we'll compare the 3Q17 operating margins of XPO's peers versus their 3Q16 margins.
XPO's earnings are expected to grow at a rapid pace in the coming quarters. Investors who prefer growth stocks can consider the Guggenheim S&P 500 Equal Weight ETF (RSP), which is a growth ETF. Major companies in diverse industries are included in RSP's holdings.
In the next article, we'll review analysts' recommendations for XPO Logistics after its 3Q17 earnings.