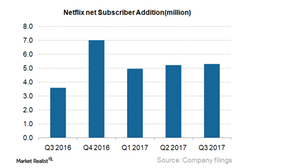 Can Innovative Technology Help Netflix Retain Customers?
By Aaron Hemsworth

Nov. 8 2017, Updated 9:03 a.m. ET
Enhancing service quality
Netflix (NFLX) continues to enhance its service quality by using an artificial intelligence method called Dynamic Optimizer. It could help the company offer better quality videos without using as much bandwidth. It could also produce smoother streaming of videos on smartphones, thus delivering more customer satisfaction.
The technique is extremely useful to Asian countries, including India, South Korea, and Japan, where many people prefer watching videos on smart devices such as smartphones and tablets. Earlier, Netflix launched two new types of mobile encodes: AVCHi-Mobile and VP9-Mobile. Both offer a better video compression facility.
The graph above shows how net subscriber growth for Netflix has increased. One of the growth factors was technological advancements.
Article continues below advertisement
Partnership with airline carriers
Netflix will also expand its partnership with more airline carriers in 2018. The launch of superior encoding facilities could allow the company to provide smoother in-flight video streaming services by consuming less data.
The partnerships could help Netflix customers avoid missing popular shows and allow the airlines to save on Wi-Fi (wireless fidelity) services. It could also improve entertainment options for passengers.
Netflix is already offering services to Virgin America (ALK), Aeromexico, Qantas, and Virgin Australia. It hopes to enter into partnerships with more carriers moving forward.
Netflix continues to face stiff competition in domestic markets from other video streaming players, including Amazon Prime Video (AMZN) and Hulu. Telecommunication and satellite operators such as AT&T (T) and Dish Network (DISH) are also offering streaming services, which could further ramp up the competition.
To counter competition, Netflix may have to come up with new technologies and strategies. Its technological developments, coupled with new airline partnerships, could help the video streaming leader retain subscribers as well as market share.