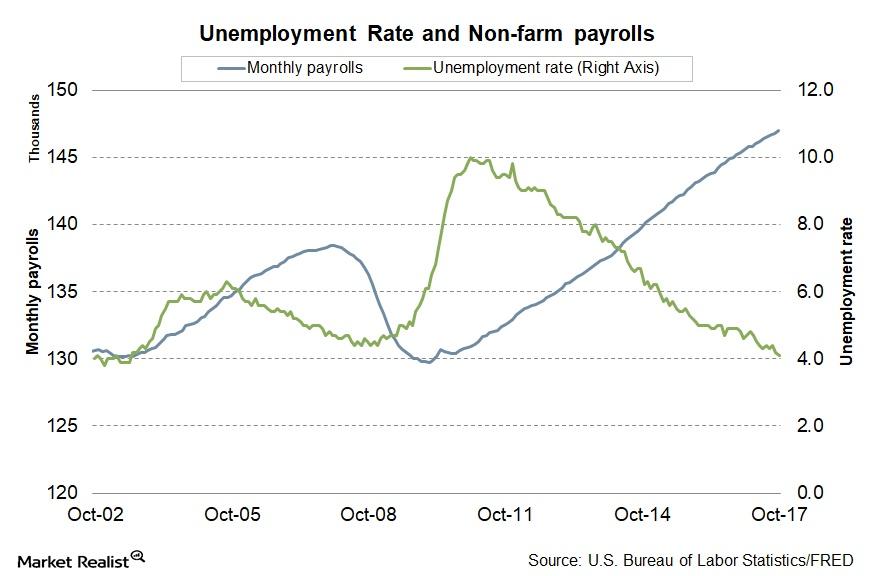 Why October Non-Farm Payrolls Disappointed Markets
October payrolls lower than expected
The non-farm payroll data for October rose by 261,000, which was below the consensus expectation of over 300,000 job additions. The previous month's job additions were revised higher by 90,000 jobs, meaning the total number of jobs added in October would translate to 351,000, which is above the consensus expectation.
The September jobs report indicated a loss of 33,000 jobs due to major hurricanes but that's not the case anymore, as the number of jobs has been revised higher.
Article continues below advertisement
Unemployment rate dropped lower
The unemployment rate for October dropped to 4.1%, compared with 4.2% in September—the lowest level of unemployment since 2000. The only negative point in the October jobs report was the drop in civilian employment, which fell 484,000 jobs in October.
Civilian employment jobs are from small companies that include startups. Average hourly wages remained unchanged from September, but that could be compensated by the 0.5% increase we saw in August.
The highest number of jobs were added in the leisure and hospitality (HPT) industry, followed by the professional and business services (XSW) industry. There was no job loss in any of the sectors that were surveyed.
Why markets were disappointed
The market (SPY) reaction to the jobs data was muted, and the key reason could have been that the number of jobs added was smaller than the consensus expectation. The jobs data is unlikely to change the Fed's stance on another rate hike (BND) in December and a few more in 2018.
The impact has been on long-term (TLT) yields, which fell as investors challenged the Fed's long-term outlook that inflation (TIP) would reach a 2% target and that interest rates would continue to rise.
In the next and final part of this series, we'll analyze the fall in November's preliminary Michigan Consumer Sentiment Index.