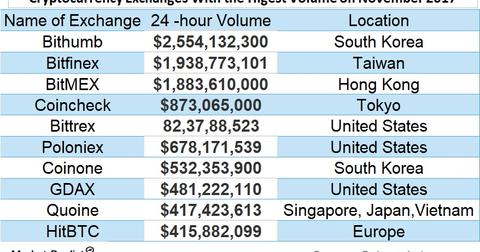 Where You Can Buy Bitcoin and Other Cryptocurrency Today
By Ricky Cove

Updated
First, find a place to save bitcoin
Before you set out to purchase any cryptocurrency, you need to find a place to store these virtual currencies. In the crypto-universe, this function is done by cryptocurrency e-wallets that are similar to the e-wallets offered by Samsung, Apple (AAPL), or PayPal (PYPL). Once you secure a wallet, you can purchase bitcoins from bitcoin exchanges and various other sources.
Bitcoin exchanges
According to coinmarketcap.com, there are close to 1,300 cryptocurrencies that are traded in 6,648 markets, with a total market cap of nearly $227.5 billion and a 24-hour trading volume of around $13.1 billion. There are exchanges located across the globe that function like normal US indexes (SPY), and there are free as well as paid exchanges.
Investors who are not into mining can purchase bitcoins on any of the above exchanges. They can also make use of marketplaces to exchange cryptocurrencies using mobile applications.
The risk of holding bitcoin
The problem is that wallets used to save cryptocurrencies (ARKW) aren't always foolproof. In 2014, Mt. Gox, a Japan-based bitcoin exchange, filed for bankruptcy after it lost 850,000 bitcoins. Being Virtual and with no classification as a currency (USDU), many countries don't have any rules or regulations for cryptocurrencies or exchanges. Wallets can be hacked just like an email account, and there's no bank in between to protect your bitcoins.
Remember, bitcoin was created to bypass this issue with "trust" in the banking (XLF) system. The bitcoin (ARKK) network is robust, but how you safeguard your wallet would be your responsibility because coins, once transferred, can't be taken back.