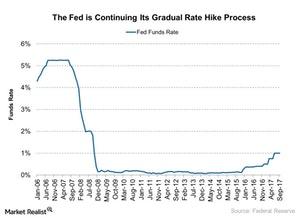 What's James Gorman's Stance on Interest Rates?
James Gorman in an interview with CNBC
On Wednesday, November 15, 2017, James Gorman, chair and CEO of Morgan Stanley (MS), shared his views on the US economy (DJIA-INDEX) (QQQ), US tax reform, the impact of interest rates on the economy, the Chinese economy (FXI) (YINN), and bitcoin in an interview with CNBC. We'll also analyze why Chinese investors are looking towards India as an investment destination in spite of some reforms taken by the Chinese government and the People's Bank of China.
Article continues below advertisement
James Gorman's stance on interest rates
James Gorman thinks we'll see a gradual increase in interest rates in the near future. On December 12, 2017, the Fed will begin its last monetary policy review meeting for 2017. According to James Gorman, the market thinks the probability of a rate hike at the meeting is between 80% and 85%. Interest rates are a key monetary tool to stimulate the economy.
James Gorman also thinks the Fed is gradually reaching normalization of the monetary policy. He said, "I think that's a done deal, I do think we'll have at least, hopefully, three rate increases next year. We need to get back to normal." However, the decisions related to the interest rates could be more data driven. Moreover, he thinks the Fed will slowly remove the extra cushion in the interest rate, which it provided after the 2007 financial crisis.
Interest rates and the market