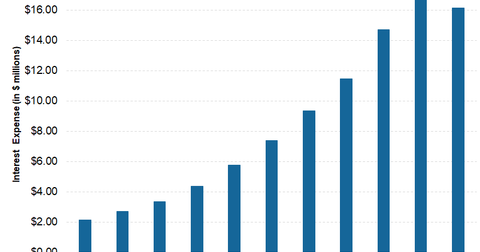 What Investors Should Know about Vivint Solar's Leverage Position
By Alexis Tate

Updated
Interest expenses
In 3Q17, Vivint Solar's (VSLR) interest expenses came in at $16.2 million as compared to $16.8 million in 2Q17 and $9.4 million in 3Q16. The YoY increase in interest expenses is mainly due to more borrowing.
Debt structure and liquidity position
As of September 30, 2017, Vivint Solar had approximately $882.7 million in debt, 3.3% higher than $854.8 million at the end of 2Q17. Out of the $882.7 million, $278.0 million has been borrowed under the 2016 term loan facility, and $192.3 million has been borrowed under the subordinated HoldCo facility.
Borrowings under the Subordinated Holdco Facility have an interest rate of 9.3% and mature in March 2020. This debt was used for solar energy system construction and acquisitions. The term loan into which Vivint Solar entered in August 2016 has an interest rate of 4.2%. The interest expense for the term loan was approximately $3.7 million for 3Q17.
At the end of 3Q17, Vivint Solar had approximately $101.8 million in the form of cash and cash equivalents, lower than the $115.6 million the company had as of June 30, 2017. Vivint Solar (VSLR) has tax equity commitments from investors to fund approximately 63 megawatts as of October 31, 2017.
Outlook
Vivint Solar's 3Q17 results were driven by solid operational performance. Lower cost per watt enabled the company to bring down its operating losses on a YoY basis. For 4Q17, the company expects its cost per watt to be in the range of $2.9 and $3.0 on account of lower megawatt (or MW) bookings in 3Q17. VSLR anticipates its MW installations to be in the range of 46 MW–50 MW in 4Q17.
The solar energy (TAN) industry is capital intensive. Companies like SunPower (SPWR), Sunrun (RUN), and SolarCity (SCTY) source much of their necessary capital from outside. Cash and loan sales may help in reducing the reliance on outside sources for capital.