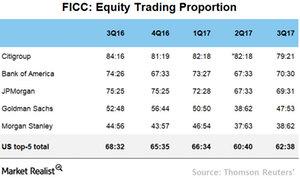 US Banks' Divergent Approaches to Securities Trading
By Peter Barnes

Nov. 20 2017, Updated 11:30 a.m. ET
FICC or equity?
Over the years, the largest US banks (XLF) have followed different approaches to their equity and FICC (fixed income, currencies and commodities) trading. While Citigroup (C), Bank of America (BAC), and JPMorgan Chase (JPM) favors FICC trading, Morgan Stanley (MS) largely focuses on equity trading. On average, FICC operations contributed ~67% of the total trading revenues for these banks. Equity trading contributed the rest.
Article continues below advertisement
Legal & General to focus on US market
Legal & General, based in the United Kingdom, is targeting acquisitions in the US. The company aims to replicate its UK model of investing in assets like infrastructure to match the long-term products it sells to customers. Many European companies have attempted to expand in the US market in the past, but only a few succeeded.
AXA filed for an IPO
The US unit of the French insurer AXA has filed for an IPO (initial public offering). JPMorgan Chase and Morgan Stanley will coordinate the IPO, while other banks will assist as bookrunners on the deal. A number of insurance companies have spun off their US life insurance businesses or are planning to do so.
US banks real-time payment system
The real-time payments system created by The Clearing House, which is owned by 25 US banks, has officially started functioning. Clearing House's owners are expected to adopt the system very soon. BNY Mellon (FRN) and U.S. Bancorp (USB) already adopted the system. Citibank, JPMorgan Chase, and SunTrust (STI) are expected to follow.