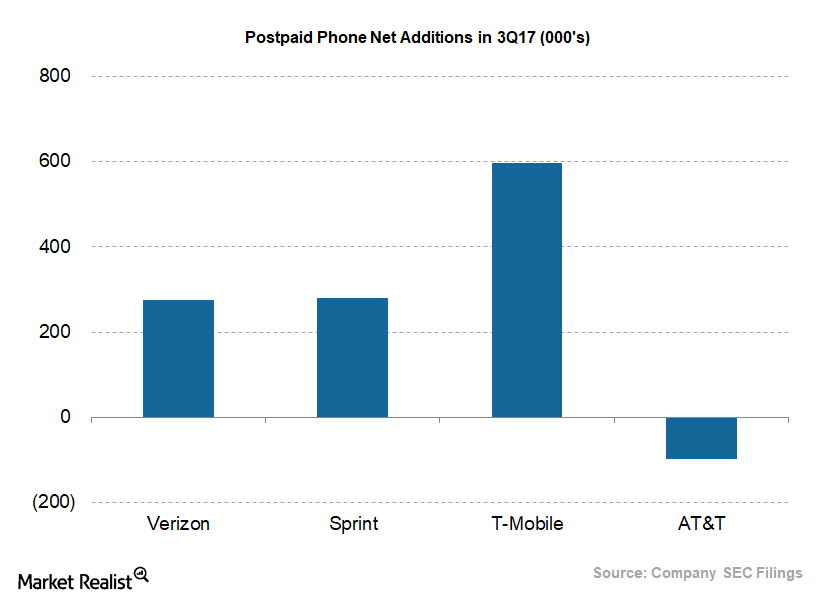 Understanding T-Mobile's Postpaid Phone Net Addition Trend in 2017
T-Mobile's postpaid phone net additions in 3Q17
The strong momentum at T-Mobile (TMUS) showed no signs of slowing in 3Q17, with 595,000 postpaid phone customer net additions in 3Q17. This was down from 851,000 in 3Q16 but up from 533,000 in 2Q17.
This sequential growth was primarily driven by the strong market acceptance of T-Mobile's UN-Carrier plan initiatives and promotional activities, while the YoY (year-over-year) decline was primarily due to the increased competitive intensity in the industry.
T-Mobile reported its 15th-straight quarter as the industry leader in postpaid phone subscriber net additions.
Article continues below advertisement
Peer postpaid phone net addition comparison
In 3Q17, Verizon Communications (VZ) gained 274,000 postpaid phone net customers, while AT&T (T) lost 97,000 postpaid phone subscribers during the same period. Sprint (S) reported 279,000 postpaid phone net additions in fiscal 2Q17 (quarter ending September 2017).
Remember, postpaid phone subscribers—especially smartphone subscribers—are of significant value for telecom companies. Users of smartphones such as Google's (GOOG) Android or Apple's (AAPL) iPhone tend to have somewhat higher data usage. As a result, they are the most lucrative subscribers for mobile carriers.
In the next part, we'll look at T-Mobile's prepaid customer net additions.