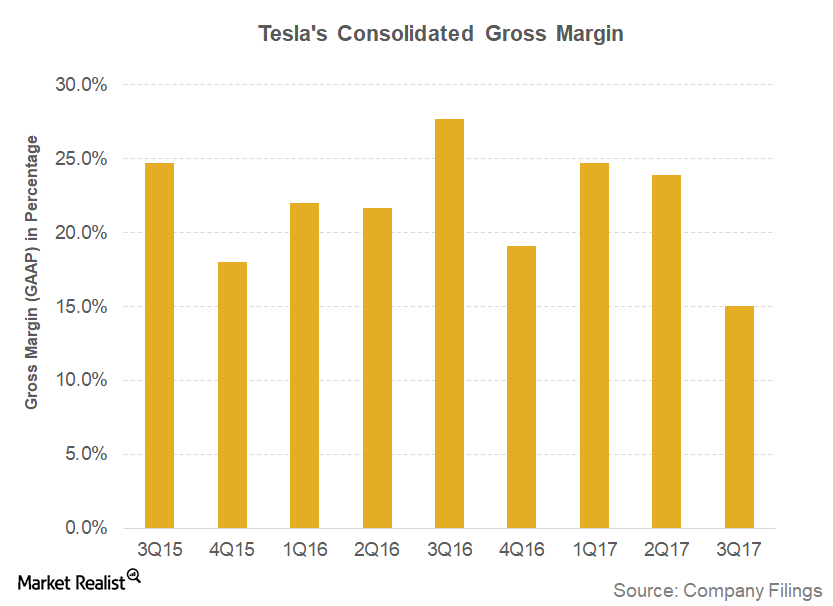 These Factors Hurt Tesla's Gross Margin in 3Q17
Tesla's 3Q17 earnings
In the previous part, we discussed how an increase in Tesla's (TSLA) third-quarter car deliveries and higher revenues from energy products boosted revenues. However, the company's lower-than-expected Model 3 deliveries were worrisome. Also, the company produced about 25,336 car units in 3Q17, about 1.4% lower than the 25,708 units produced in the previous quarter. Now, let's move on by looking at Tesla's 3Q17 gross margin.
Article continues below advertisement
Gross margin contracted in 3Q17
In 3Q17, Tesla's consolidated gross profits stood at $449 million, down 33% from $667 million in 2Q17 and down 29% from $637 million in 3Q16. With this, the company's 3Q17 GAAP (generally accepted accounting principles) gross margin fell to 15% from 23.9% in the previous quarter. This gross margin also reflected a significant fall from the gross margin of 27.7% in the corresponding quarter of 2016. Moreover, Tesla's third quarter consolidated gross margin was worse than analysts' estimate of 18.3%.
Key negative factors
In the third quarter this year, Tesla's GAAP gross margin from the automotive segment was at 18.3% as compared to 27.9% in 2Q17 and 29.4% in 3Q16. Similarly, it fell to 18.7% in 3Q17 from 25% in the previous quarter on a non-GAAP basis.
In its 3Q17 earnings report, the company noted that this weakness in gross margin was in line with the expectations mainly due to a sharp increase in Model 3 initial production costs. Tesla's gross margins from Model S and Model X also fell on a quarter-over-quarter basis in 3Q17. TSLA attributed this fall to "one-time price adjustments for discontinued trims and unfavorable trim mix."
The company expects its gross margins from Model S and Model X to improve in the coming quarters. Nevertheless, Tesla's automotive gross margin is still better than those of legacy automakers (IYK) including Ford Motor (F), General Motors (GM), and Fiat Chrysler (FCAU).
Weaker margins from energy segment
In the third quarter, Tesla's energy generation and storage segment gross margin fell to 25.3% from 28.9% in the previous quarter. The company expects the gross margin of its energy products to remain weak in 4Q17 but to gradually improve in the long term with the help of capacity utilization at its Nevada-based Gigafactory.
Continue to the next part where we'll take a quick look at some other key highlights of Tesla's 3Q17 earnings event.