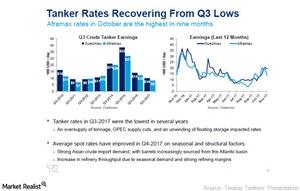 Teekay Tankers Highlights Positive Industry Developments
By Sue Goodridge

Nov. 17 2017, Updated 5:00 p.m. ET
Market insights from Teekay
In its third quarter conference call, Teekay Tankers (TNK) discussed insights into the tanker market, how it fared in the third quarter, and its outlook for the coming quarters. These insights will be helpful in assessing the outlook for Teekay Tankers and other crude (DBO) tanker companies such as Nordic American Tankers (NAT), Tsakos Energy Navigation (TNP), Frontline (FRO), DHT Holdings (DHT), and Euronav (EURN).
Article continues below advertisement
Tanker industry in 3Q17
Crude tanker spot rates in 3Q17 were the lowest in the last several years. The combination of high fleet growth, OPEC supply cuts, and the unwinding of floating storage has put downward pressure on rates. Also, to add to this, normal seasonal factors contributed to lower tanker rates. Typically, the third quarter is the weakest quarter of the year for tanker rates.
Tanker industry in 4Q17
In the early part of 4Q17, crude tanker spot rates have improved. This is partly due to seasonal factors. Refineries increase throughput ahead of the winter demand season. Also, some weather delays in the US Gulf in early October supported rates. Also, some structural factors are behind the tanker rate recovery including strong Asian import demand and an increase in long-haul oil movements from the Atlantic to Pacific basins.
Article continues below advertisement
Positive developments
2017 saw record Suezmax deliveries, which are set to decline in 2018 and 2019. Also, scrapping activity could see an uptick in 2018. The scrapping activity is set to increase due to low freight rates, an increase in scrap prices, and upcoming legislation on ballast water and low sulfur bunker fuel. TNK believes the net fleet tanker growth will be 5% in 2017, which could fall to 3% in 2018 and 2% in 2019.
Other positives for the tanker industry are that global oil demand remains strong and oil prices have reached a two-year high, so OPEC may increase production next year. Non-OPEC production is expected to grow by 1.3 million barrels per day in 2018 with most of it coming from the US. An increase in US oil exports has proved positive for tanker demand.
Teekay Tankers believes all these factors will pave the way for tanker market recovery in the coming years.