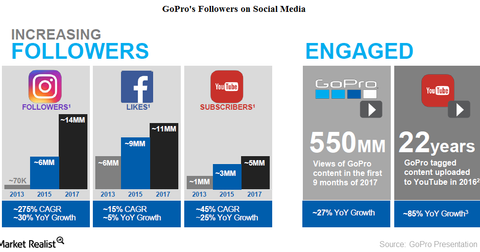 Why the Smartphone Experience Is Integral to GoPro
By Adam Rogers

Updated
GoPro wants to be an extension of the smartphone
One of GoPro's (GPRO) priorities is to make smartphones integral to the GoPro experience. The company has estimated a high correlation between the adoption of smartphones and the growth of GoPro products. GoPro's vision is to make GoPro an "untethered lens" to the smartphone, enabling users to easily access and share captured content.
GoPro has been closely tracking user engagement with respect to its devices, apps, and ad content. The number of engaged camera users rose 74% YoY (year-over-year) and 18% QoQ (quarter-over-quarter) in 3Q17. Shares via the GoPro application also rose 30% YoY and 36% QoQ in 3Q17. Monthly active users for Quik rose 155% YoY as well in 3Q17.
Increasing followers on social media
As you can see above, GoPro's followers on Instagram (FB) rose from 6 million in 2015 to 14 million in 2017, whereas likes on Facebook rose from 9 million to 11 million. YouTube (GOOG)(GOOGL) subscribers also rose from 3 million in 2015 to 5 million this year.
Plus, there have been over 150,000 conversations about the HERO6 and Fusion in 2017 on social media reaching a potential 1.5 billion users. Positive sentiment for HERO6 was reportedly 9% higher than the HERO4 in the same period last year.
According to GoPro COO CJ Prober, "Negative sentiment through Q3 and launch has been at an all-time low, confirming that we continue to deliver amazing products for our consumers."
Article continues below advertisement