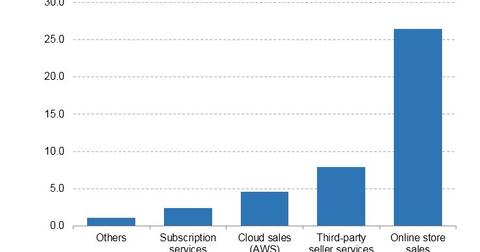 Project Loon and Aquila Could Benefit Amazon in Emerging Markets
By Neha Gupta

Updated
Extending Internet access
Through initiatives such as Project Loon and Aquila, Alphabet (GOOGL) and Facebook (FB) are working to extend Internet access to underserved regions of the world, especially in emerging markets (EMM).
Alphabet's Project Loon involves using huge, high-altitude balloons to beam high-speed Internet access to the ground. In the past month, Alphabet partnered with wireless carrier AT&T (T) to provide Internet access to people ravaged by Hurricanes Irma and Maria in Puerto Rico.
Facebook's Aquila program involves using drones to beam high-speed Internet access to the ground. Facebook recently announced the successful trial deployment of Aquila.
Article continues below advertisement
Alphabet and Facebook are ad-funded companies
Given the structure of their businesses, Alphabet and Facebook benefit when there are more people online to use their services. Alphabet and Facebook rely on online advertising for more than 80% of their revenues.
For these companies, the larger their online audience, the more ad spending they are likely to attract. This trend could explain why they are investing in initiatives to introduce Internet access to more people around the world.
Internet is Amazon's backbone
In 3Q17, Amazon (AMZN) generated more than 60.3% of its total revenues from online retail sales, and about 10.5% of its revenues in the quarter came from its cloud computing business. This metric shows that Amazon depends on the Internet for the majority of its revenues.
Amazon stands to benefit from more people around the world coming to the Internet because its addressable market would expand. Amazon is challenging Alphabet's Google and Facebook in the online advertising industry.