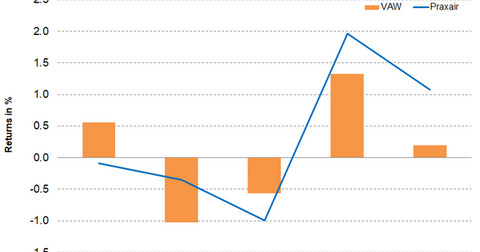 Praxair Hikes Helium Prices across Regions
By Peter Neil

Updated
Praxair hikes helium prices
On November 15, 2017, Praxair (PX) announced that it will increase the price of helium. The price hike will be effective January 1, 2018, or as the contract allows. The price will increase 10%, depending on the region.
The increase in helium prices could be positive and help improve Praxair's revenue, assuming that the volumes either remain constant or increase. The impact of the price increase should be visible in the first quarter of 2018. In 3Q17, PX's revenue rose over the previous year across all its reporting regions, led by Asia at 15%, Europe at 11%, North America at 4%, and South America at 3%.
Article continues below advertisement
Update on Praxair stock
Praxair has remained positive, rising 1.6% and closing at $150.64 for the week ended November 17, 2017. The gain has resulted in PX stock trading 9.7% above the 100-day moving average of $137.35, indicating an upward trend. On a year-to-date basis, the stock has risen 28.5%. However, analysts see a further upside in the stock and have recommended a target price of $155.05 over the next 12 months. That implies a return potential of 2.9% over the closing price on November 17, 2017. PX's relative strength index of 66 indicates that the stock is neither overbought nor oversold.
Investors looking to invest in Praxair indirectly can invest in the Vanguard Materials ETF (VAW), which has invested 4.8% of its portfolio in Praxair. The other holdings of the fund include Monsanto (MON), Air Products & Chemicals (APD), and LyondellBasell (LYB) with weights of 5.8%, 4.8%, and 4%, respectively, as of November 17, 2017.