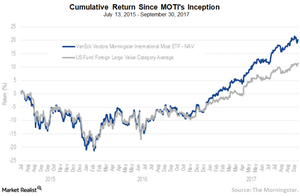 A Peek into the MOTI ETF's Performance
By VanEck

Nov. 29 2017, Updated 2:37 p.m. ET
VanEck
While MOTI's performance these past 12 months alone has been notable, its returns since inception have been equally impressive. As of September 30, 2017, MOTI has performed near the top of its Morningstar peer group – US Fund Foreign Large Value category. MOTI ranked in the 4th percentile (13th of 316 funds) for the last year and ranked in the 6th percentile (22nd of 324 funds) since its inception on July 13, 2015, based on total returns.
Article continues below advertisement
Market Realist
International moat ETF has exposure to diverse countries and companies
As of October 31, the VanEck Vectors Morningstar International Moat ETF's (MOTI) portfolio comprises 76 companies from around the world (EFA)(VEA). The ETF has an allocation to diverse sectors, with the most exposure to the financial sector at 22.4%, followed by industrials, healthcare, telecom, and consumer discretionary at 16.0%, 13.2%, 12.8%, and 8.8%, respectively. The top five holdings are Nidec (Japan), Enn Energy Holdings (Hong Kong), Industrial & Commercial Bank of China (Hong Kong), DBS Group Holdings (Singapore), and China Resources Gas Group (Hong Kong).
Healthy returns
The VanEck Vectors Morningstar International Moat ETF (MOTI) has delivered healthy returns since its inception. As the chart above shows, MOTI has provided higher returns compared to the most widely followed benchmark, the S&P 500 index (SPX-INDEX)(SPY)(IVV), year-to-date and over the past year. The higher returns offered by MOTI may be due to the inclusion of high-growth companies from around the world.