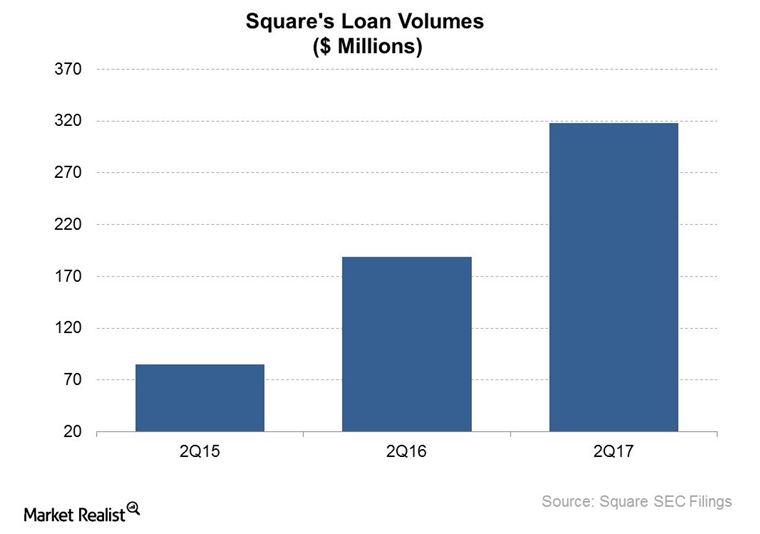 An Opportunity for Square in the Lending Business
By Neha Gupta

Nov. 7 2017, Updated 9:02 a.m. ET
Square's loan book expanded 68% in 2Q17
Square (SQ) is gearing up to report its 3Q17 while its credit arm, Square Capital, is getting a lot of attention because of how robustly the business is growing.
Square said it extended $318 million in small business loans in 2Q17, implying a 68% year-over-year rise in the company's loan facilities. In September, Square CEO Jack Dorsey revealed that the company had supplied more than $1.8 billion in small business loans since the inception of the credit business in 2014.
Article continues below advertisement
Other alternative lenders
Through its lending arm, Square is playing the alternative financing market, a domain it shares with LendingClub (LC). LendingClub's revenue grew 35% year-over-year in 2Q17, as its loan originations grew 10% year-over-year.
PayPal (PYPL) and Amazon (AMZN) are also players in the alternative financing and lending market since they supply small loans to their customers. PayPal and Amazon have each extended between $2.5 billion and $3.0 billion in small business loans since launching their credit operations.
Square extending loans to non-customers
Although Square initially extended loans only to its customers, the company has expanded its lending scope to supply credit to non-customers. This expansion of Square's credit business was made possible through strategic partnerships with the likes of Upserve and BigCommerce.
Revenue opportunity in the alternative financing market is compelling. In the United States (SPY) alone, the Polsky Center estimates that alternative loan volume was $34.5 billion in 2016—implying that the market expanded by about $6.2 billion over the previous year. Worldwide, the alternative lending industry is forecast to grow to about $1.0 trillion in the coming decade.