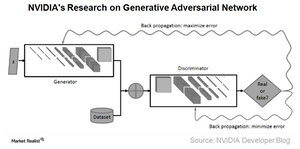 What Is NVIDIA Doing to Make AI Affordable?
By Puja Tayal

Updated
NVIDIA's machine learning software for AWS customers
NVIDIA (NVDA) has been making efforts to reduce the costs of ML (machine learning) development and AI (artificial intelligence) deployment. Its most recent effort is its new ML software in NGC (NVIDIA GPU Cloud).
A GPU (graphics processing unit) user on cloud first has to rent the GPU, then get the right Linux OS (operating system), configure the correct drivers, get the software framework, download the DNN (deep neural network) libraries, and ensure everything is compatible with each other. NGC simplifies this process by creating a registry of compatible and optimized ML software containers that can run on the user's choice of cloud.
Article continues below advertisement
The initial beneficiaries of this ML software would be Amazon's (AMZN) AWS (Amazon Web Services) customers. AWS's new P3 GPU instances offer one, four, or eight Volta GPUs that are connected through scalable NVLink 2 and deliver up to 960 trillion operations per second. Such high performance could help users reduce the deep learning training time from days to hours.
A user has to create a free account on NGC, select the required framework, and the driver where the application should run. The NGC would create an ID that would tell AWS what container to load on the P3 instance. While making AI affordable, NVIDIA is also looking for new applications where AI can be put to use.
Generative adversarial network to become the cornerstone of AI research
Recently, NVIDIA unveiled a GAN (generative adversarial network) that uses two AI systems to create high-quality photographs of fake people. GAN uses two adversarial systems. The first system creates images and the second judges if the image is real or fake. The system hasn't yet been perfected yet, as human experts can identify the fake photographs. NVIDIA believes that GAN could become the foundation of AI research.
Apart from conducting research, NVIDIA is looking to create a whole new army of AI developers in order to boost the adoption of AI. The company has collaborated with governments and institutes to educate youth on AI. We'll look into this in the next part.