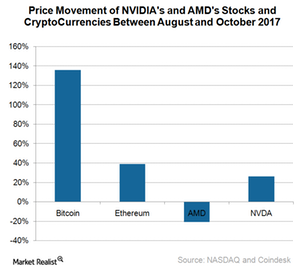 How NVIDIA Could Be Affected if Cryptocurrency Trend Fades
By Puja Tayal

Nov. 8 2017, Updated 10:31 a.m. ET
AMD and NVIDIA ride the cryptocurrency trend
The cryptocurrency frenzy boosted Advanced Micro Devices' (AMD) and NVIDIA's (NVDA) revenues in calendar 2Q17. Traders were betting on cryptocurrency through AMD's and NVIDIA's stock price, as crypto miners use discrete GPUs (graphics processing units) to mine currencies.
AMD and NVIDIA are the only discrete GPU providers, and they faced a GPU shortage in July 2017 as crypto miners purchased all the GPU stock from the market. This sudden demand for crypto cards came as cryptocurrency prices soared and more and more people started mining. Miners, especially Ethereum miners, tend to prefer AMD GPUs over NVIDIA's.
Article continues below advertisement
Analysts discourage correlation between GPUs and cryptocurrencies
Wall Street analysts discouraged this correlation between GPU providers and cryptocurrencies. They stated that it is a short-term growth bubble that could burst anytime. If this bubble bursts, all the GPUs purchased by these miners would be sold in the secondary market at a cheaper price, which would hurt AMD's and NVIDIA's future sales.
Between August 1 and October 31, 2017, Ethereum prices rose only 39%, whereas Bitcoin prices rose 136%. Looking at the slow growth of Ethereum prices, Morgan Stanley warned that the mining frenzy could fade and demand from crypto miners could fall 50% YoY (year-over-year) in 2018. As AMD earns 9% of its revenue from cryptocurrencies, this slowdown would negatively impact the company's revenue. AMD also reported weaker guidance for fiscal 4Q17.
AMD's stock price fell 24% in a week after the release of its fiscal 3Q17 earnings on October 24, 2017. However, NVIDIA doesn't seem to be affected by the cryptocurrency momentum. Moreover, its fiscal 3Q18 guidance excludes any sales of crypto cards.
Will NVIDIA still ride the cryptocurrency trend?
It's true that the cryptocurrency trend may not remain as strong as it is today but both GPU providers believe that this trend won't vanish immediately. The mining operation now happens in big factories in China (FXI), which deploy powerful GPUs and enable miners to mine the currency they want on the cloud. NVIDIA believes that more and more cryptocurrencies will emerge, and demand for crypto cards will continue in the long term.
NVIDIA will likely continue to focus on its primary gaming, data center, automotive, and professional visualization markets while tapping into growth from cryptocurrency. Next, we'll look at the company's performance in its primary markets.