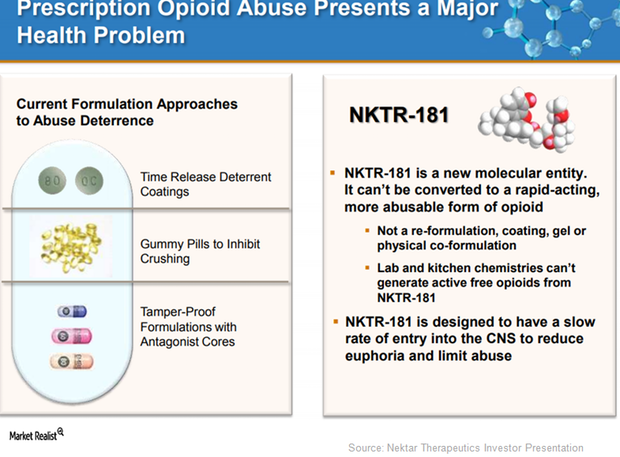 Nektar's NKTR-181 Expected to Transform Chronic Pain Market
By Margaret Patrick

Nov. 29 2017, Updated 10:34 a.m. ET
NKTR-181 developments
Nektar Therapeutics (NKTR) plans to submit an NDA (New Drug Application) with the FDA (U.S. Food & Drug Administration) for late-stage chronic pain drug NKTR-118 by April 2018. The company is currently involved in real-time stability studies to support the NDA.
In a Type C meeting with the FDA in October 2017, Nektar Therapeutics officials discussed the company's plan to submit an NDA seeking approval for NKTR-118 for opioid-naïve patients suffering with moderate-to-severe chronic low back pain. The discussion led the company to expect an advisory committee meeting before the FDA's decision on the NDA since the FDA may find the review of a new chemical entity opioid for chronic pain challenging based on a single efficacy trial.
Nektar Therapeutics accounts for 0.68% of the iShares Russell 2000 Growth's (IWO) total portfolio holdings.
Article continues below advertisement
The above diagram shows how NKTR-181 may help prevent opioid abuse while providing relief from chronic pain. NKTR-181 may thus prove more effective in preventing addiction problems associated with conventional opioids from generic players such as Endo International (ENDP), Teva Pharmaceutical (TEVA), and Pfizer (PFE).
NKTR-181 is designed to enter the patient's central nervous system at a much slower rate. That helps reduce euphoria and could also limit the use of the drug for abuse. Additionally, NKTR-181 reduces other side-effects such as dizziness, sedation, and respiratory depression.
Market opportunity
According to IMS Health and Decision Resources, in 2013, the global chronic pain market was worth more than $20 billion. Opioids account for global spending of about $12.6 billion, while annual worldwide spending on NSAIDs[1. non-steroidal anti-inflammatory drugs]/COX-2s is around $5.9 billion. Anti-epileptics have global sales of about $3.6 billion, while worldwide spending on antidepressants is around $1.5 billion. Chronic pain drugs are prescribed for multiple ailments such as chronic back pain, fibromyalgia, neuropathic pain, and osteoarthritis.
In the next and final part of this series, we'll look at the clinical trial data for NKTR-181.