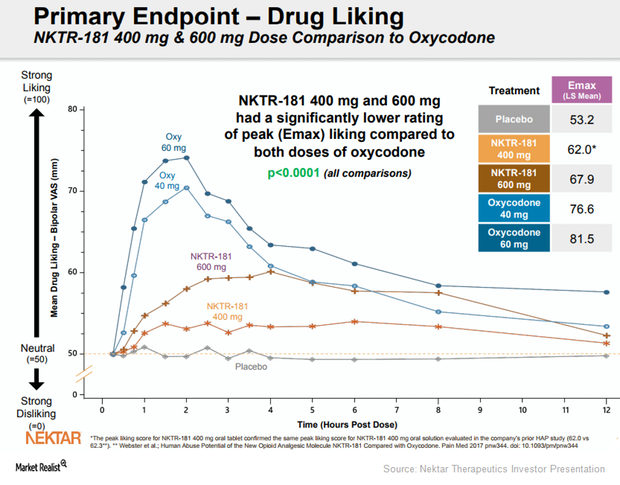 Nektar Therapeutics: Positive Data from Phase 3 NKTR-181 Trial
By Margaret Patrick

Nov. 30 2017, Updated 7:33 a.m. ET
Phase 3 efficacy trial
In September 2017, Nektar Therapeutics (NKTR) presented positive data from its Phase 3 efficacy trial SUMMIT-07 evaluating the clinical potential of investigational first-in-class opioid analgesic NKTR-181 in reducing pain in opioid-naïve patients suffering from chronic lower back pain. NKTR-181 managed to meet all primary and secondary endpoints in the trial. The drug candidate showed improvement in various factors such as quality of life and quality of sleep as well as high safety and tolerance profiles. NKTR-181 has already received fast-track designation from the FDA (U.S. Food & Drug Administration).
The FDA has also granted fast-track designation to Alnylam Pharmaceuticals' (ALNY) Patisiran and Pfizer (PFE) and Eli Lilly's (LLY) non-opioid pain drug tanezumab.
Article continues below advertisement
The above diagram shows the results of the human abuse potential study, which compared the oral abuse potential of NKTR-181 400 mg (milligram), 600 mg, and 1200 mg doss with 40 mg and 60 mg doss of Schedule II opioid oxycodone. The 400 mg dose is the highest efficacious dosage of NKTR-181, according to the Phase 3 efficacy trial, while the 600 mg and 1200 mg doses represent the possibility of patients taking higher-than-recommended doses. It was seen that the peak liking of the 400 mg and 600 mg doses of NKTR-181 was much lower than that seen for both oxycodone 40 mg and 60 mg doses. Further, the peak liking (or EMAX) for the 1200 mg dose was lower than the 60 mg dose of oxycodone.
Nektar Therapeutics makes up 1.1% of the iShares S&P Small-Cap 600 Growth (IJT).
Clinical data package
In addition to data from the 600-patient efficacy study SUMMIT-07, Nektar Therapeutics is expected to submit data from a trial evaluating the safety and efficacy of NKTR-181 in 630 patients over a 52-week time frame to support NKTR-181's NDA (New Drug Application). The company is also expected to submit pharmacokinetic and pharmacodynamic data for NKTR-181 studied in 450 healthy subjects. Additionally, the clinical data package will include results from human abuse potential studies for therapeutic and supratherapeutic dosages of tablet and solution formulations of NKTR-181 in recreational users.