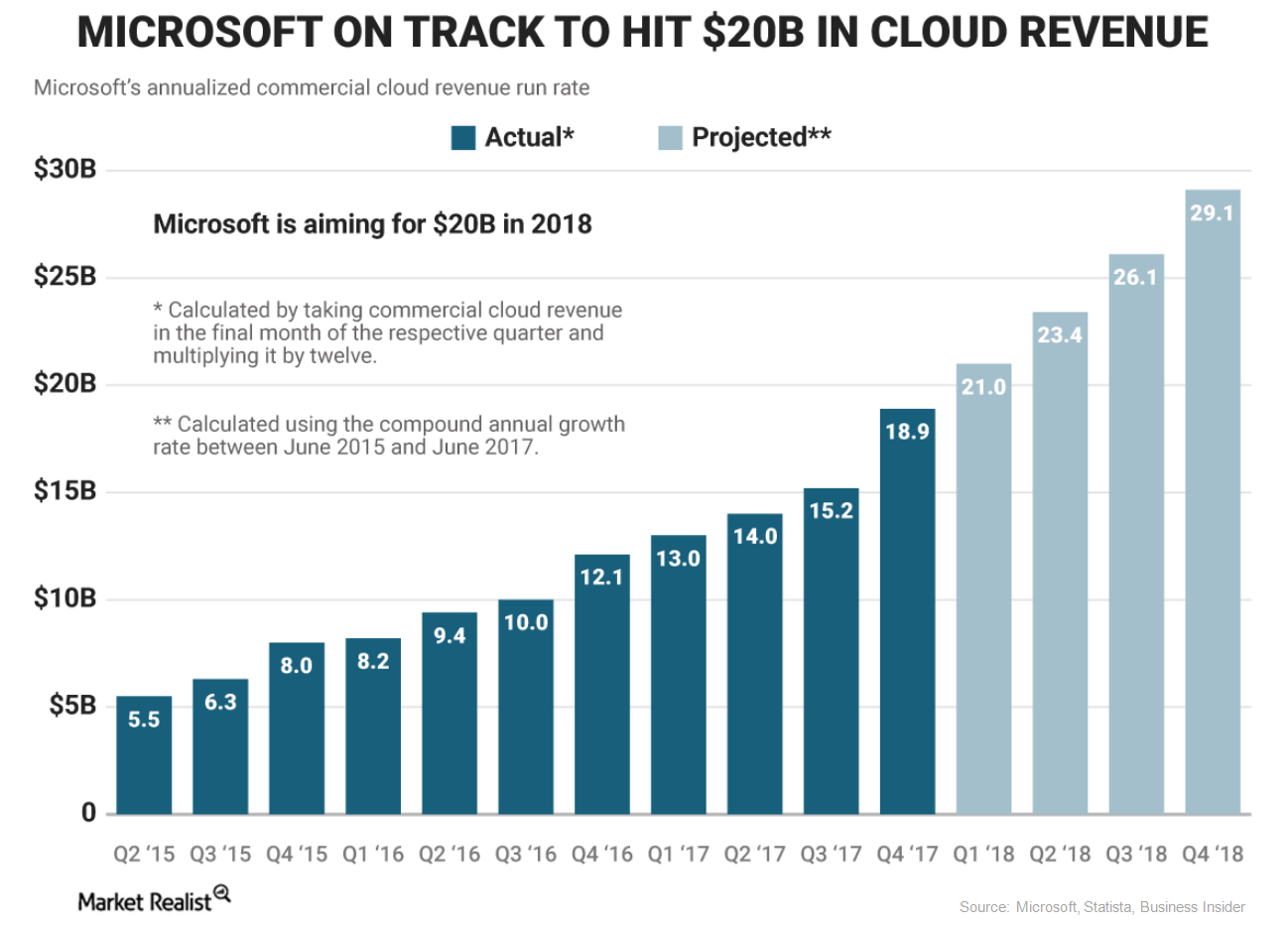 MSFT's Commercial Cloud's Revenue Run Rate Exceeds $20 Billion
Microsoft's Commercial Cloud revenue run rate exceeds $20 billion
Earlier in this series, we discussed Microsoft's (MSFT) consistent success in the cloud, which enabled it to exceed analysts' estimates. Microsoft's Commercial Cloud includes Azure, the commercial edition of Office 365, Power BI (Business Intelligence) Dynamics 365, and enterprise security and mobility. This product grew 56% to hit an annualized rate of $20.4 billion in revenues.
Microsoft reports "120 million monthly active users of Office 365 commercial," adding that the company would "have more than 530 million LinkedIn members."
The company calculates its annualized revenue run rate by multiplying its revenues in the final month of the quarter by 12. In this case, the company is using fiscal 1Q18.
The company cited $20.4 billion as its commercial cloud annual run rate (or ARR). On October 26, a report in Fortune noted that this is "an annual projection based on one month's performance."
Article continues below advertisement
Microsoft's Commercial Cloud outpaced the timeline
Microsoft's numerous initiatives in the cloud and other emerging technologies enabled it to exceed its goal of generating $20.0 billion in revenues before its goal of fiscal 2018. In October 2015, Microsoft announced that it aims to hit $20.0 billion in annual cloud revenues by fiscal 2018.
Highlighting the company's performance, Satya Nadella, Microsoft's CEO, stated during the fiscal 1Q18 earnings release, "We are off to a very strong start in FY 2018, delivering double digit top and bottom line growth and exceeding $20 billion in commercial cloud ARR, outpacing the goal we set just over two years ago."