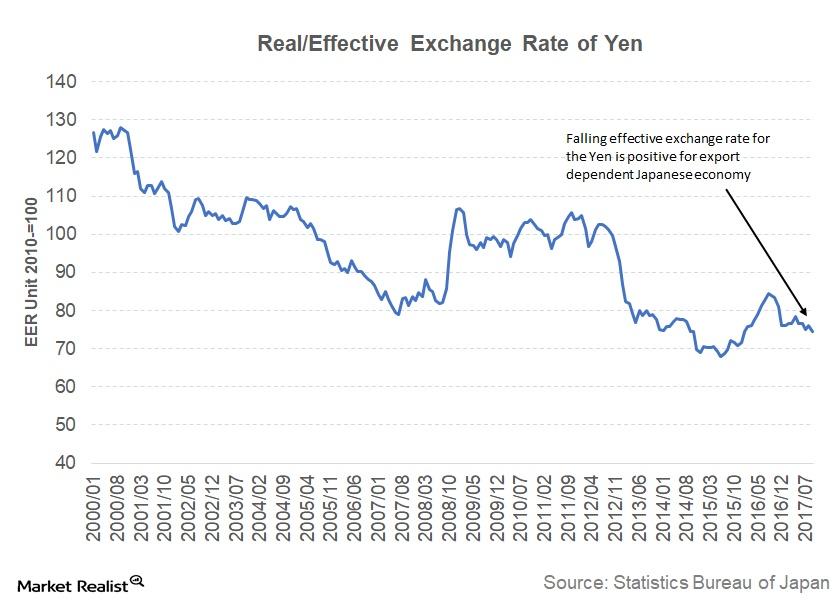 Japanese Yen Is Expected to Depreciate More
More trouble for the Japanese yen
Since the Japanese election results, the Japanese yen has depreciated. The Bank of Japan is expected to continue the accommodative policy. An accommodative policy results in a weaker currency, while the currency appreciates in a tightening economic scenario. The rebound in the US dollar (UUP) also impacted the yen (FXY). The dollar rose amid the higher prospect tax reforms by the Trump Administration.
Article continues below advertisement
Volatility
The Japanese yen lost all of its gains from recent months after the election results were announced. The Japanese yen is at its lowest point in 2017—compared to major currencies like the US dollar, euro (FXE), and pound. The Japanese yen (YCS) was trading at 112 compared to the US dollar in January 2017. It made a high of 110 in August 2017 during North Korea's missile crisis. Currently, the yen is heading towards 114. The effective exchange rate, calculated by the Bank of Japan, has also trended lower in recent months, which is positive for the Japanese economy. A lower real effective exchange rate improves Japanese companies' competitiveness like Sony, Toyota (TM), and Honda.
What to expect 
With the possibility of more divergence in monetary policy between the Bank of Japan and other major central banks, the Japanese yen is expected to remain weak. In the months ahead, when the US, the European Union, the United Kingdom start monetary tightening, the Bank of Japan will likely continue or even increase its policy accommodation. The main risk is an unexpected rise in geopolitical tension, which could increase the demand for the yen's safe-haven status.