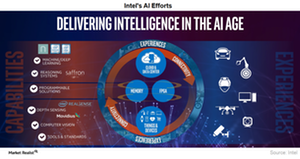 Inside Intel's Strategy to Maintain Technology Leadership
Toward the future of technology
In this series, we've discussed some critical decisions made by Intel (INTC) to maintain its leadership as the industry goes through a new technology shift toward AI (artificial intelligence) and IoT (Internet of things). The company has managed to change its future by making some significant changes in its business model.
At the start of 2017, Jeffries stated that Intel stands to lose in the AI space, while NVIDIA (NVDA) stands to be the biggest beneficiary. Between then and now, Intel has completed the acquisition of Mobileye to get a head start in the autonomous car space. It's also announced a partnership with Alphabet's (GOOG) Waymo in its self-driving project. Intel has meanwhile launched its first two 3D XPoint-based memory products and ramped up production of 3D NAND (negative AND) chips.
Intel made a few more AI acquisitions and launched AI chips based on the technology of Nervana and Movidus, which it acquired in 2016. Now, it has partnered with arch-rival Advanced Micro Devices (AMD) and poached Raja Koduri to head its efforts in visual computing and edge computing.
Article continues below advertisement
AMD's GPU is Intel's first experiment with its EMIB's (embedded multi-die interconnect bridge) technology that aims to support the integration of heterogeneous components. This Intel-AMD partnership will likely open the door for strategic partnerships with other components in the future. There's always a possibility that Intel and AMD could expand their partnership beyond performance gaming into workstations for designers and professionals. This way, Intel would be able to maintain its market share in the PC (personal computer) space without diverting a significant amount of resources.
Other landmark decisions in semiconductors
Meanwhile, other landmark deals and decisions are being seen outside Intel as well. Broadcom (AVGO) has decided to make the tech (QQQ) industry's biggest acquisition of Qualcomm (QCOM) for over $100 billion. After rejection from Qualcomm, Broadcom is considering a hostile takeover.
For the first time, Intel's exclusive PC partner, Microsoft (MSFT), has partnered with Qualcomm (QCOM) to launch Windows 10 cellular PCs powered by the Snapdragon processor.
Such tech movements show that the semiconductor industry is undergoing a major transition. There's no room for traditional business models, and semiconductor companies are moving from being component suppliers to a comprehensive, one-stop solution for customer needs.
Rest assured, the semiconductor industry will likely be seeing more surprising decisions and deals in the near future.