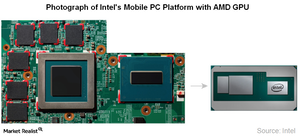 Inside Intel's and AMD's Mobile PC Platform for Gaming
By Puja Tayal

Updated
Intel and AMD develop mobile PC platform for gaming
Intel (INTC) has teamed up with Advanced Micro Devices (AMD) to develop a mobile PC (personal computer) platform with integrated discrete GPUs (graphics processing units). AMD has developed a semi-custom GPU for Intel's MCM (multi-chip module), which will become a part of its eighth-generation Core line.
A gaming laptop system has an average height of 26 mm (millimeters), whereas generic-purpose thin laptops have a height of 16 mm or even 11 mm. Gaming laptops are bulky because they have Intel Core H-series processors and a discrete GPU.
Article continues below advertisement
Specification of Intel's new chip 
Intel wants to introduce a gaming laptop on a small-form factor by bringing its eighth-generation quad-core Kaby Lake-H processor, AMD's semi-custom Radeon GPU, and HBM2 (High Bandwidth Memory)—all on a single module. This would be the first mobile PC platform to use HBM2.
HBM2 is generally used in data center processors. As HBM is stacked one above the other, it consumes less power and space than the traditional GDDR5 (graphics double-data rate) memory.
Graphics card
While the details of CPU (central processing unit) and memory have been revealed, there's ambiguity around the graphics card. Intel's press release has not given any details about which GPU would feature inside its new module. PC Gamer reports that the Intel chip would integrate AMD's Vega GPU architecture, while Digital Trends reports that Intel chip would integrate AMD's Polaris GPU architecture.
It's been speculated that Intel's module would feature AMD's Polaris 20 graphics chip, which was used on the Radeon RX 580 GPU. However, Digital Trends reported that leaked benchmarks show the Radeon GPU on Intel's module features 24 computing units, compared with the 32 computing units on the Radeon RX 570 and the ~16 computing units on the RX 560.
Based on these benchmarks, we can assume that AMD's GPU inside Intel's module would have a performance somewhere between the RX 570 and the RX 560, which translates to a performance between NVIDIA's (NVDA) GeForce GTX 1050 Ti and the GTX 1060. This mobile platform would be the first module wherein Intel would use its EMIB (embedded multi-die interconnect bridge) technology.
Continue to the next part for a closer look at this new technology.