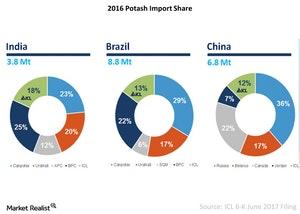 Why India and China Want PotashCorp to Divest Interests to Complete the Merger
By Adam Jones

Updated
Demand in India and China
India and China are among the largest customers of potash fertilizers globally. According to Israel Chemicals' (ICL) June 2017 6-K filings, India imported 3.8 million tons of potash in 2017, while China imported 6.8 million tons of potash.
The purchasing decisions of these two countries may have a significant impact on how global potash prices are determined. In its 2016 annual report, Arab Potash stated that global potash prices have declined due to a delay in contract settlements with India and China.
Article continues below advertisement
PotashCorp's share
Potash Corporation of Saskatchewan (POT), also known as PotashCorp, is one of the largest producers of potash in the world. The company's global footprint is further enhanced by minority interests in companies like Arab Potash, Sociedad Quimica y Minera de Chile (SQM), Israel Chemicals (ICL), and Sinofert.
In 2016, India received almost 53% of its potash from distributors directly or indirectly connected to PotashCorp. This includes Canpotex, Arab Potash, and Israel Chemicals. Similarly, China received 41% of its 2016 potash imports from Canada (Canpotex), Jordan (Arab Potash), and Israel Chemicals.
Canpotex
Canpotex is a potash marketing and logistics company owned equally by the three major global agricultural fertilizer producers: PotashCorp, Agrium, and Mosaic (MOS). Through Canpotex, these three companies (MOO) make potash available to over 60 countries around the world. (To learn more, check out Market Realist's Canpotex's New Methodology to Impact POT, MOS, AGU.)
Upon completion of the PotashCorp-Agrium merger, the new company, Nutrien, will command more than 60% ownership in Canpotex. PotashCorp would likely be in a position to exercise a significant influence on its minority interests, and some customers may be uncomfortable with PotashCorp's dominant position in the global potash market.
This also helps explain why India and China have set the divestiture of certain minority interests as conditions for their approval of the merger.
For a discussion of how the PotashCorp-Agrium merger could change the global fertilizer space, check out Market Realist's series PotashCorp and Agrium: Another Merger in the Agribusiness Space.