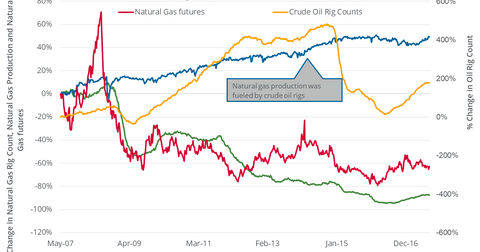 How Higher Oil Prices Could Push Natural Gas Prices Lower
By Rabindra Samanta

Updated
The natural gas rig count
In the week ended October 27, 2017, the natural gas rig count was at 172– down by five from the week before. This represents the fifth weekly fall in the natural gas rig count.
Between September 22 and October 27, 2017, the natural gas rig count fell by 18. However, from September 22, 2017, to date, natural gas prices have fallen 2.2%. The fall in the natural gas rig count could have limited the fall in natural gas prices. But this isn't the only factor that impacts natural gas production.
Although the natural gas rig count is 89.3% lower than its historic high in 2008, natural gas production has kept rising during this period. The oil rig count has been driving natural gas production because the latter is often produced along with the former.
A higher oil-to-natural-gas price ratio encourages drillers to extract oil in priority compared with natural gas. Moreover, natural gas liquid development can also be commercially more attractive than dry natural gas production.
Higher crude oil production can also mean higher natural gas supply. This can pressure prices in the long term, but in the short term, sentiment around crude oil can directly impact natural gas too. (Later in this series, we'll analyze the correlation between natural gas and oil prices.)
Higher oil prices
Last week, the oil rig count was at 737–one higher than the week before. On November 1, 2017, US crude oil prices were just 0.3% below their 2017 highest closing price.
Higher oil prices would likely encourage US oil producers to add more oil rigs and increase their revenues, which could increase natural gas supplies and, in turn, could add more downside to natural gas prices.
Higher oil prices could also be a negative development for natural gas-weighted stocks such as Range Resources (RRC), Chesapeake Energy (CHK), and Rice Energy (RICE). Energy ETFs including the Fidelity MSCI Energy ETF (FENY) and the Energy Select Sector SPDR ETF (XLE) will also likely react to higher oil prices.