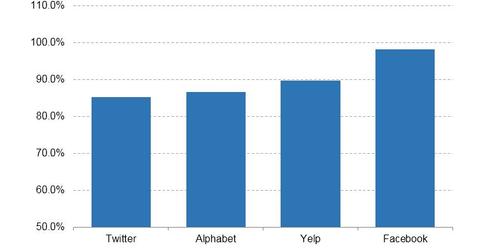 Why Google Wants to De-Rank Russia Today
By Neha Gupta

Updated
War on misinformation
Alphabet's (GOOGL) Google is preparing to act against Russia Today and Sputnik, two of Russia's prominent media outlets believed to be closely associated with the Kremlin. According to various media reports, including by the BBC and the Guardian, Google's action against these Russian media agencies would involve deprioritizing the ranking of their articles in Internet search results rather than completely banning them.
Article continues below advertisement
The reason that Google wants to de-rank Russia Today and Sputnik is that they are believed to be engaging in the spreading false information and propaganda on behalf of the Russian government. Russia is believed to have tried to influence the 2016 US (SPY) presidential election, and US intelligence agencies have described Russia Today as a state-run propaganda machine.
RT rejects propaganda machine label
Russia Today and Sputnik have protested the "propaganda machine" label, saying they are being unfairly targeted for publishing facts. In a recent statement, Russia Today's and Sputnik's editor-in-chief, Margarita Simonyan, denounced Google's actions.
Russia Today operates on television and digital news platforms, while Sputnik is largely an online media outlet.
Google and others criticized
Internet and social media companies including Google, Facebook (FB), and Twitter (TWTR) have recently come under pressure and heavy criticism in the US for allowing their platforms to be used by foreign agencies to meddle in local politics. This has led some US lawmakers to propose a law that would force companies like Google, Facebook, and Snap (SNAP) to disclose more information about who is running ads on their platforms.
Google, Facebook, and Twitter are individually acting against misinformation on their platforms to keep away from controversies that could be harmful to their businesses.
Notably, Google is Alphabet's largest source of revenues and profits, and Google makes money from advertising. In 3Q17, advertising sales contributed 86.7% of Alphabet's overall revenues.