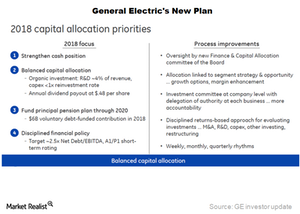 What General Electric's Capital Reallocation Tells Us
By Samuel Prince

Nov. 17 2017, Updated 10:32 a.m. ET
GE's capital reallocation
General Electric (GE) gave hints of stricter capital reallocation in its 3Q17 earnings call. GE has drained most of its cash by way of dividend payments much in excess of its FCF (free cash flow). The company's decision to cut its annual dividend by 50% to $0.48 per share from $0.96 per share has been widely anticipated by markets.
GE aims to lower its capital expenditure in 2018, and it intends to run its capital expenditure at a reinvestment rate of 0.9 that year, compared with its reinvestment rate of 1.4–1.5 over the past several years. The LEAP engine production cycle and the H-class gas turbines production cycle has seen high capital absorption in the past. The company aims to bring down its reinvestment rate to 1.0 for these products.
Article continues below advertisement
GE on mergers and acquisitions
Taking cues from the Alstom fiasco, GE announced that it may pursue limited and low-sized merger and acquisition opportunities in the short term. In the investor update call, chairman and chief executive John Flannery stated: "For 2018, a couple of thoughts here. The first headline I'd say is prudent financial policy as we go through the reset. So a strong cash position, again, balanced capital allocation inside the business."
Flannery went on to say: "We're going to continue to invest in R&D. We think our capital expenditure and investing should be coming down as some of these product launches mature and a payout of $0.48 a share on the dividend."
Another area of capital reallocation has been the funding of GE's pension plan. The company hopes to borrow $6.0 billion in the near term and park it in its pension plans. This should ease GE's burden of the cash contribution to its pension plans from 2018 through 2020.
Notably, in the company's investor update, John Flannery seems to admit that past mergers and acquisitions weren't accretive enough to EPS (earnings per share).
ETF investment
The iShares Edge MSCI Multifactor Industrials ETF (INDF) has the highest exposure on General Electric (5.8%) among all ETFs holding the company's the stock. Industrial majors such as Boeing (BA), 3M (MMM), and Norfolk Southern (NSC) are included in the top holdings of INDF, comprising 4.1%, 3.9%, and 3.7%, respectively, of the ETF's portfolio.
Overall, GE will likely focus on small transactions related to its core industries with minimum integration risks going forward.
In the next and final part of this series, we'll consider the analysts' recommendations for General Electric.