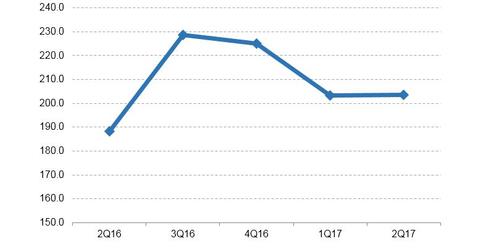 Gauging the Impact of Zynga's Prudent Cost Management
By Neha Gupta

Updated
Zynga broke profit drought in 2Q17
Zynga (ZNGA) was able to break a streak of quarterly losses, with a profit of more than $5.0 million in 2Q17. Scrutiny of Zynga's financial scorecard for 2Q17 reveals that the profits reported for the quarter were supported by revenue growth and prudent cost management.
In 2Q17, Zynga's revenues grew more than 15% YoY (year-over-year) to $209.2 million, a reversal from its 3.0% revenue fall in 2Q16. Zynga competitors Electronic Arts (EA) and Glu Mobile (GLUU) reported revenue growths of 14.2% and 42%, respectively, for the same quarter.
Activision Blizzard (ATVI), another digital game publisher, bucked its peers' trend, with revenues for 2Q17 dropping nearly 12% YoY.
Zynga taking control of costs
Although Zynga's total expenses in 2Q17 rose ~8.1% YoY to $203.5 million, its management stated that expenses were lower than expected, implying strong progress in Zynga's cost-reduction efforts.
There are some new developments that could also help Zynga with its cost-curtailment efforts and profitability. One of them is the proposed closing of the company's Oxford office, which serves the headquarters of the digital animation firm NaturalMotion.
Zynga acquired the UK-based (EWU) NaturalMotion in 2014 for ~$527 million. About 50 employees are said to work at the Oxford location, which Zynga has decided to close down. The affected employees would be moved to Zynga's offices in Brighton and London.
Opportunity to cut cost and lift margins
If the closing of its Oxford office is a consolidation move, it could help Zynga slash some of its operating costs, potentially leading to higher profits.
As if to show confidence in its cost controls, Zynga is expecting profits of $7.0 million in 3Q17, which would be a sharp reversal from its net loss of $41.7 million in 3Q16.