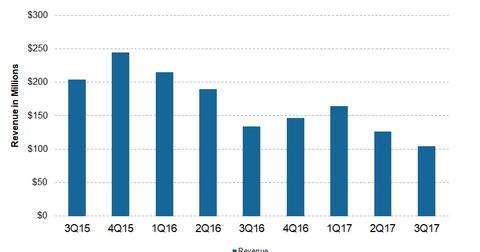 Euronav's 3Q17 Revenue when Freight Rates Were One of the Lowest
By Sue Goodridge

Updated
Negative revenue
Euronav (EURN) recorded revenues of $104 million in 3Q17, compared to $126 million in 2Q17. Since the crude oil tanker industry is characterized by seasonality, comparing YoY (year-over-year) revenues makes sense. Compared to revenues of $133 million in 2Q17, Euronav's 3Q17 revenue was 22% lower YoY.
Article continues below advertisement
Revenue for first 9 months
Euronav's revenue for the first half of 2017 was $395 million, which was 26% lower than $537 million in the first half of 2016.
Revenue sources
Euronav's revenue is impacted by tanker rates for VLCCs (very large crude carriers) and Suezmax vessels. The company operates its vessels in the fixed market as well as the spot market.
Article continues below advertisement
Euronav's tanker rates in 3Q17
Euronav earned a spot rate for its VLCC fleet of $18,875 per day, compared to $27,100 per day in 3Q16. Its Suezmax spot rate in 3Q17 was $15,670 per day, which was lower than $41,480 per day in 3Q16. In 3Q17, its time charter rates for VLCC and Suezmax vessels were also lower YoY.
Peers
According to Euronav, the freight market in 3Q17 was the toughest since 3Q13. Freight rates were under pressure in both the VLCC and Suezmax sectors. That not only negatively affected Euronav's revenue but also the revenues of other crude oil tanker companies. Most of the crude oil carriers haven't released their 3Q17 results yet. Below are analysts' 3Q17 revenue estimates for those companies:
What's next?
In its 3Q17 conference call, Euronav stated that so far in 4Q17, it has booked 45% of its VLCC spot rates at about $26,000 per day. It has booked 56% of its Suezmax spot rates at about $16,000 per day.