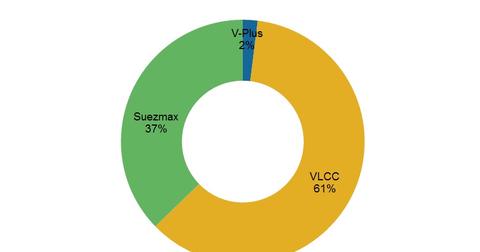 Euronav, DHT Holdings Selling Their Old Vessels
By Sue Goodridge

Updated
Euronav
On November 24, 2017, Euronav (EURN) sold its VLCC (very large crude carrier) Artois. It was 298,330 DWT (deadweight tonnage) and wholly owned by Euronav. The Artois was the oldest VLCC in Euronav's fleet. Euronav sold the vessel for $22 million and will record a capital gain of ~$7.7 million. The vessel is expected to be delivered to its new owner in December 2017. Euronav stated that this sale was part of the fleet renewal program and will further reduce the average age of Euronav's fleet.
Euronav owns and operates a fleet of 56 double-hulled vessels—one V-plus, 30 VLCCs, 19 Suezmaxes, four Suezmaxes under construction, and two FSO (floating storage and offloading) vessels.
Article continues below advertisement
DHT Holdings
On November 23, 2017, DHT Holdings (DHT) entered into an agreement to sell its three oldest VLCCs—DHT Utah, DHT Utik, and DHT Eagle. Two of these VLCCs were built in 2001, and the third was built in 2002. The total price agreed for the three vessels was $65.5 million. DHT will deliver DHT Utah and DHT Eagle to their new owners before the end of 2017 and DHT Utik in January 2018. DHT will record a book loss of ~$3.5 million in 4Q17 in connection with the sale. After the sale, the average age of DHT's VLCC fleet will be 6.1 years—down from 6.9 years. According to DHT Holdings, the sale is in accordance with the company's fleet renewal strategy.
The company now has a total of 23 VLCCs and two Aframaxes on the water. In addition, the company has four VLCC newbuilds, which will be delivered during 2018.
To learn more about the fleets of Tsakos Energy Navigation (TNP), Teekay Tankers (TNK), Nordic American Tankers (NAT), and DHT Holdings (DHT), be sure to read our crude oil tanker comparative series.