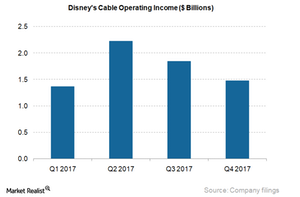 BAMTech Consolidation Expected to Impact Disney's Earnings Growth
BAMTech consolidation impact
To promote its new direct-to-consumer business, The Walt Disney Company (DIS) increased its stake in BAMTech to 75% by acquiring a 42% share in August 2017 for $1.6 billion. Disney expects that the acquisition could impact its fiscal 2018 earnings.
As BAMTech is a pioneer in video streaming technology, Disney believes that its ongoing consolidation will severely affect the company's cable business. Cable operating income is expected to fall $130 million between fiscal 2017 and fiscal 2018.
Article continues below advertisement
The company expects that the consolidation will hurt cable margins in the first three quarters of fiscal 2018, with almost half of the impact in the first quarter. Its Cable Networks margin stood at 12.5% in fiscal 2017, compared with 11% in 2016. The company expects its expenses to rise by high-single digits in fiscal 2018 due to the BAMTech consolidation. This consolidation may suppress its overall margins and bottom-line growth.
Disney to enter video streaming business
Disney seems to be quite late to enter the video streaming business, a market dominated by early movers such as Netflix (NFLX) and Amazon Prime Video (AMZN). Other players, such as Apple (AAPL) and Facebook (FB), are also planning to launch streaming services.
Therefore, to remain competitive, Disney needs to step up its investments. Taking control of BAMTech was a smart move by the company, as its streaming technology has the ability to deliver 10 million live streams at a time. Furthermore, BAMTech's ad technology platform will help the media giant monetize advertising in a better way and bring more value to advertisers. Going forward, the successful consolidation of BAMTech may bring significant value to the company's direct-to-consumer business.