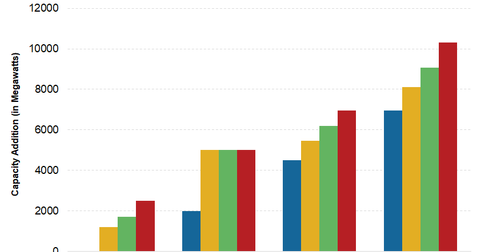 Canadian Solar's Revised Expansion Plan and Financial Position
By Alexis Tate

Updated
Revised expansion plan
According to its latest company filings, Canadian Solar (CSIQ) raised its expected wafer manufacturing capacity from the originally planned 4.0 GW (gigawatts) to 5.0 GW. The revision was made primarily due to debottlenecking.
CSIQ's wafer capacity currently uses diamond wire-saw technology, replacing the slurry wire-saw technology previously used. It is compatible with the efficient black silicon multi-crystalline solar cell technology that Canadian Solar uses. As a result, the company can significantly reduce its silicon usage and manufacturing costs.
In its latest filings, CSIQ reported its plan to increase its cell manufacturing capacity to ~5.5 GW by the end of 2017. By the end of 2018, the company expects to increase the capacity to ~7.0 GW.
Canadian Solar finished the construction of the new multi-crystalline silicon ingot casting workshop in China at the end of 3Q17. The facility currently has an annual capacity of 1.1 GW. Through production debottlenecking, it is expected to increase to 1.2 GW by the end of fiscal 2017.
Canadian Solar's financial position
On September 30, 2017, Canadian Solar (CSIQ) reported ~$1.2 billion in cash, cash equivalents, and restricted cash. The company reported the same metric of $961.6 million on June 30, 2017.
The company had $2.1 billion of short-term debt on its books at the end of 3Q17 compared to nearly $2.0 billion at the end of 2Q17.
CSIQ's long-term debt at the end of 3Q17 was approximately $318.0 million compared to $273.0 million at the end of 2Q17.
Moving ahead, Canadian Solar expects to reduce its debt through the sale of operating projects in the US and United Kingdom, as well as the IPO (initial public offering) of CSIF (Canadian Solar Infrastructure Fund) in Japan.
On September 30, 2017, Canadian Solar had a net debt-to-EBITDA[1. earnings before interest, tax, depreciation, and amortization] ratio of ~41.6. CSIQ's financial leverage is lower than its solar (TAN) competitors Vivint Solar (VSLR) and JinkoSolar (JKS), which have net debt-to-EBITDA ratios of ~171.3 and 110.6, respectively.
JA Solar (JASO) had a net debt-to-EBITDA ratio of ~20.7 for the same period. A lower ratio is better from a creditworthiness perspective.
In the final part of this series, let's look at the outlook for Canadian Solar.