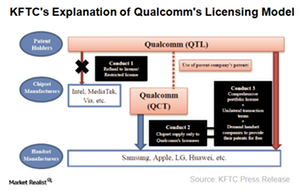 Can Qualcomm Survive the Changing Smartphone Industry?
By Puja Tayal

Updated
About Qualcomm
Qualcomm (QCOM) has enjoyed strong growth since the mobile revolution took off in 2007, thanks to its cellular modem technology. The company's 3G/4G wireless technologies became the industry standard, connecting almost all smartphones in the world. The company also became the sole licensor of the cellular modem, which helped it earn huge operating profits.
However, things have changed for Qualcomm in the past five years, with the company constantly facing fines and probes from various countries' regulators and lawsuits from customers and competitors.
Article continues below advertisement
Qualcomm's rigid licensing practices
Qualcomm's 3G, 4G, and LTE (long-term evolution) technologies are inside almost every smartphone modem. The company sells the license to vendors in bundles and charges a royalty of 3%–5% of the total value of the end device.
Previously, the faster wireless connections supported by Qualcomm's technology helped smartphone vendors command a premium price. However, the smartphone industry landscape has changed significantly. A smartphone is no longer differentiated by wireless connections alone. There are several other differentiators such as screen size, camera, and memory to name a few. These technologies have nothing to do with Qualcomm.
Although the industry landscape has changed, Qualcomm's licensing model has not. This has increasingly irritated large customers like Apple (AAPL) and Samsung (SSNLF). According to analysts' estimates, Apple pays an average royalty of $10 per device as iPhones are sold at a premium.
Qualcomm has been trying to protect its licensing model on the grounds that the connectivity patents add value to the entire phone and the contract has already been in place for a decade. However, the contract has not changed with time, and this explains the various fines, probes, and lawsuits faced by Qualcomm. These lawsuits and fines have reduced Qualcomm's average royalty rate to an estimated 2.8%.
Next, we'll see how these licensing headwinds could impact Qualcomm.