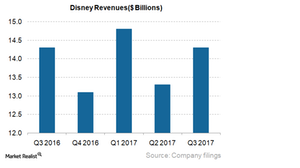 Can Disney's Acquisition of BAMTech Counter Streaming Threats?
By Aaron Hemsworth

Nov. 9 2017, Published 2:19 p.m. ET
Features of the acquisition
This August, Disney (DIS) bought a 42% stake in BAMTech for $1.6 billion, thereby extending its ownership in the company to 75%. Disney is expected to benefit from the BAMTech acquisition, as it will help the media mogul to start its own video streaming business in the middle of 2018, thereby competing with Netflix (NFLX) and other Internet TV operators. BAMTech is a dominant player in direct-to-consumer streaming technology and marketing services, data analytics, and commerce management. It spun off from MLB Advanced Media in August 2015.
Article continues below advertisement
The company has had a strong background in video streaming and broadcasting of live games on the Internet since 2002. Thus, this move will not only allow Disney to start its own streaming service but may also help the company to offset ESPN's subscriber losses through the launch of its ESPN-based multi-sport video-streaming service.
From the graph above, we can see that Disney's 2Q17 revenue remained flat, mainly due to the soft media and studio entertainment business.
Acquisition benefits
In 2018, Disney will launch an enhanced version of its ESPN apps, which will give subscribers access to 10,000 live sporting events on top of existing events available on ESPN's linear channels. BAMTech's cutting-edge streaming technology has the ability to deliver 10 million live streams at a time, which is essential for a sporting event, as viewers don't like to miss any live moments.
Furthermore, BAMTech's ad technology platform will help the media giant to monetize advertising more effectively and bring more value to advertisers. Moreover, it will also provide more insight into user data, which is again an important source of information.
Disney's future plans
In 2019, Disney is expected to launch its direct-to-consumer app where the subscriber can access more than 400 movies including Marvel, Pixar, and Star Wars movies. Moreover, the company will produce at least four to five original films for the video streaming platform.
Such advanced streaming technology from BAMTech coupled with the huge movie library could position Disney well in the video streaming space.