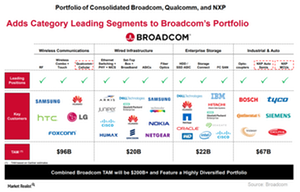 Why Is Broadcom so Bent on Acquiring Qualcomm?
By Puja Tayal

Nov. 20 2017, Updated 9:03 a.m. ET
Broadcom's intention behind acquiring Qualcomm
The probability of Broadcom (AVGO) making another acquisition offer for Qualcomm (QCOM) is not unlikely because chief executive Hock Tan has a strong record of successfully completing complex acquisitions. He acquired traditional Broadcom in 2016 and sold off its wireless IoT (Internet of things) business to Cypress.
Now, AVGO is acquiring Brocade Communications Systems (BRCD) but is facing regulatory scrutiny. Broadcom has agreed to sell Brocade's Ruckus Wireless, ICX Switch, and ethernet switch and router businesses.
Article continues below advertisement
Now that Broadcom is planning to acquire Qualcomm, it raises the question of what part of Qualcomm Broadcom is likely interested in. Specifically, an acquisition of Qualcomm would make Broadcom a leader in WiFi, Bluetooth, and 3G/4G and 5G LTE (long-term evolution). It would also mean control of NXP Semiconductors' (NXPI) NFC (near field communications).
As the two companies are rivals, there are several product overlaps that could create cost synergies of $0.7 billion–$1.3 billion, according to Broadcom.
Which business of Qualcomm is Broadcom interested in?
Broadcom is interested in Qualcomm's most advanced wireless technology of smartphone processors and cellular modems. Qualcomm is leading the 5G evolution with Intel (INTC) following closely. If Broadcom manages to acquire Qualcomm, the former would get a head start in the 5G revolution, which is expected to begin in 2019.
Broadcom is also probably interested in NXP's automotive chips and microcontrollers because these would boost its industrial and auto segment. However, it's open to acquiring the company with or without NXP, which shows that it's more interested in Qualcomm's communications technology.
Broadcom may not be interested in Qualcomm's server and PC (personal computer) processor business and its licensing business.
Next, we'll look at Qualcomm's business model and the factors that are threatening this model.