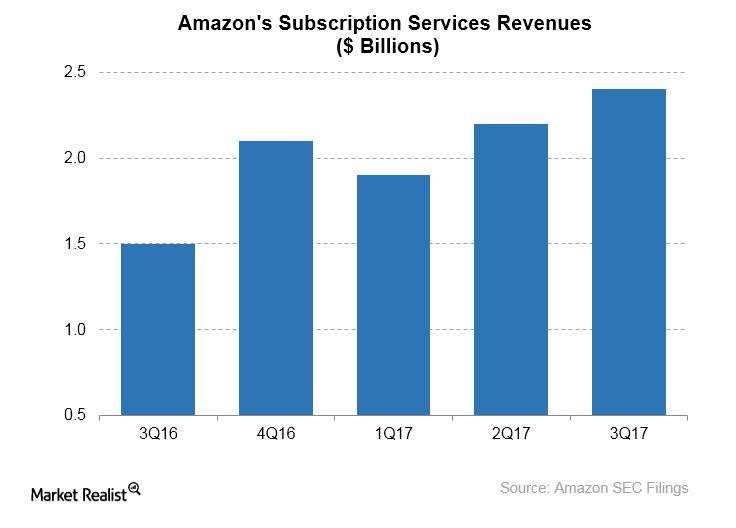 Assessing the Financial Value of the Amazon Prime Program
By Neha Gupta

Nov. 22 2017, Updated 7:30 a.m. ET
Prime segment's revenues grew 59%
In 3Q17, Amazon (AMZN) reported Subscription Services revenues of $2.4 billion, up 59.0% YoY (year-over-year), making it the fastest-growing Amazon revenue category in the quarter.
Subscription Services' revenues mostly consist of annual and monthly fees associated with Amazon Prime membership. Other income reported in this category include sales of audiobook, e-book, and digital music sales.
The strong growth of the Subscription Services business in 3Q17 could indicate that Amazon is successfully translating Prime membership growth into financial value. Amazon is believed to have added 5.0 million new Prime subscribers in the US (SPY) during 3Q17.
Article continues below advertisement
Special Prime fees for students
Besides the US, Amazon Prime service is also available in Europe (EFA) in countries such as the UK (EWU), Germany (EWG), France, and Italy. However, the US is believed to account for ~70.0% of its global Prime membership, based on Morgan Stanley's (MS) estimates.
Therefore, if Amazon had 90.0 million Prime members in the US at the end of 3Q17, global Prime membership could be estimated at 128.6 million.
Prime membership carries an annual fee of $99.00 or a monthly fee of $10.99. However, Amazon also has reduced Prime membership fees for students and consumers who receive government support.
Prime program helps drive retail sales
Not only does the Prime program generate fees revenues for Amazon, it also helps drive Amazon's retail sales. According to CIRP (Consumer Intelligence Research Partners), Prime members spend significantly more on Amazon purchases compared with non-members.
As such, the Prime program could be partially credited for the 22.0% and 40.0% YoY increase in Amazon's online store and physical store sales, respectively, in 3Q17.