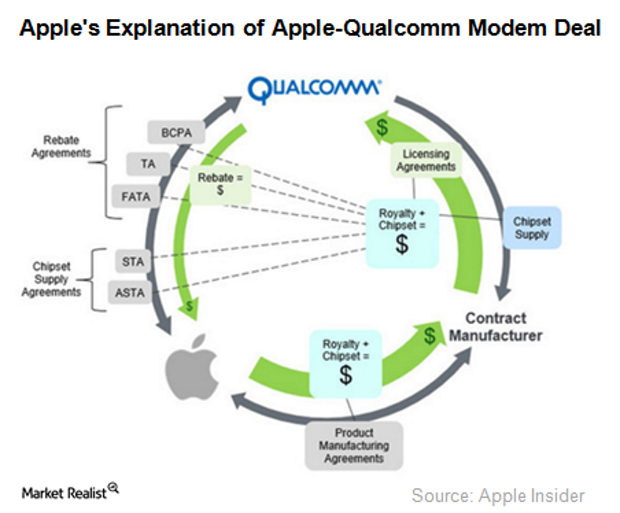 Is Apple Ditching Qualcomm Components Next Year?
Apple and Qualcomm and royalty payments
Apple (AAPL) and Qualcomm (QCOM) have spent most of 2017 in a legal battle over royalty payments. Apple is claiming that Qualcomm is charging an unfair amount to its contract manufacturers. Apple is alleging that Qualcomm's practice of charging royalties as a percentage of a mobile unit's entire cost is unwarranted. Apple is Qualcomm's largest customer.
According to a Wall Street Journal report, Apple will be making its devices without Qualcomm components in 2018.
Article continues below advertisement
Could Apple opt for Intel's modem?
According to the same report, Apple is considering making its devices using modem chips from Intel (INTC). After Apple filed the lawsuit against Qualcomm, Qualcomm withheld its software, which is critical to testing its chips in prototypes of Apple devices. According to the report, Intel's modems are currently not as fast as Qualcomm chips.
Apple already started using Intel's modem for some of its iPhone 7 devices last year, which Qualcomm tried to bar from being imported.
Qualcomm stock fell 6.7% on Tuesday, October 31, 2017, on the news of Apple's plan to change chips. According to the Wall Street Journal, Qualcomm sold around $3.2 billion of modem chips to Apple in 2016, which represents 20% of its total chip sales. The chipmaker's stock has fallen 22% year-to-date, mostly due to the long legal battle with Apple.