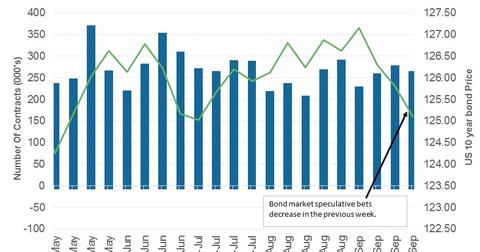 Will Bond Markets Recover from their Recent Fall?
By Ricky Cove

Updated
Bond yields continued to surge last week
The carnage in bond markets (BND) that was unveiled after the FOMC September policy statement continued last week as well. Gains in yields were broad-based across the curve, sinking the bond market further. Some of the Fed members who spoke last week sounded dovish with respect to the US economy, but this attitude didn't deter the fall in bond prices. Rising bond yields in response to a possible rate hike in December led to further losses in the bond market.
Bond market performance and speculator positions
For the week ending September 29, the ten-year yield (IEF) closed at 2.339, gaining 8 basis points or bps compared to the previous week's close. The two-year yield (SHY) closed at 1.491 (up by 6 bps) and the longer-term 30-year yield (TLT) closed at 2.786 (up by 8 bps) in the previous week.
As per the latest "Commitment of Traders" (or COT) report released on September 29 by the Chicago Futures Trading Commission (or CFTC), speculators cut back on the ten-year US government bond. The total net bullish positions as of Tuesday, September 26, were 256,626, compared to 270,120 contracts a week before.
Will bond markets bounce back this week?
Bond (AGG) traders are likely to remain focused on the economic data this week. Consensus estimates are for an addition of 95,000 jobs this month—a lower number than usual—factoring in the impact of hurricanes last month. Even a lower print like this is unlikely to have a major impact as investors are aware that, in the coming months, the rebuilding process in hurricane-battered areas could push these metrics higher.
FOMC members, including Fed chair Yellen, are scheduled to speak this week. And if they continue with the dovish tone, like last week, there could be some pullback in surging bond yields. If that happens, there could be some respite for the bond markets this week.