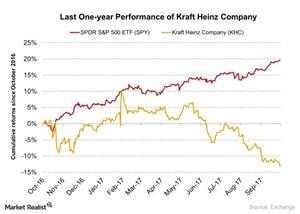 How Credit Suisse Views Kraft Heinz
By Sarah Sands

Updated
Credit Suisse on Kraft Heinz
Credit Suisse (CS) has an optimistic view on Kraft Heinz (KHC), which it believes has the potential to provide strong shareholder value. Kraft Heinz has a solid base in the consumer goods sector, as it provides a wide range of food and beverage products on a worldwide (ACWI) (VTI) basis.
In June 2017, Amazon declared that it would buy Whole Foods Market (WFM), which operates in the organic and natural foods market space. Billionaire investor Bill Miller is optimistic about this deal. Similarly, Credit Suisse believes that some acquisitions could benefit Kraft Heinz.
Article continues below advertisement
The investment firm wrote, "We believe KHC's sustainable growth profile, cost efficiency and roll-up business strategy is best in class in a structurally declining food peer group. The company has the ability to create enormous shareholder value in an instant once it finds a willing acquisition candidate.
"As the food sector inevitably consolidates in the years ahead to give it more leverage in the dynamic omni-channel environment, it makes sense to own the best acquirer."
KHC's performance
On October 19, 2017, Kraft Heinz (KHC) was trading at $76.47. Its 52-week high is $97.77, and its 52-week low is $76.31. On a year-to-date basis, KHC stock fell nearly 11.4% through October 19, 2017.
The S&P 500 Index (SPY) returned nearly 12.5% during the same period. KHC stock fell nearly 13% over a one-year period, and it is trading at a trailing price-to-earnings ratio of ~24.5x. Credit Suisse set a current target price of $100.00 for this stock.
In the next part of this series, we'll analyze Credit Suisse's view on BlackRock (BLK).