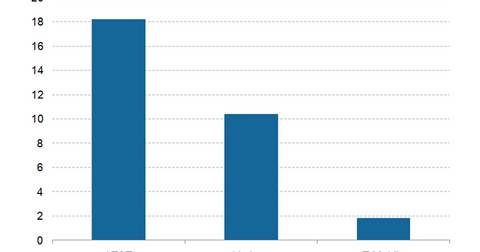 Why Verizon Believes 5G Will Have an Industrial Focus
By Ambrish Shah

Updated
Verizon's 5G strategy
Most of the wireless carriers are currently setting their sights on 5G (fifth-generation) technology for superior data speeds as well as network reliability. In contrast to 4G (fourth-generation) technology, 5G doesn't need towers but uses small cell networks that can be mounted on street lights, utility poles, and other locations on the public property.
Verizon Communications (VZ) has lately been working on 5G initiatives with Cisco Systems (CSCO), Nokia (NOK), Intel (INTC), Ericsson (ERIC), and Samsung (SSNLF).
Article continues below advertisement
Verizon's management expects the 5G network to be more focused on industrial markets than on consumer networks, despite the fact that consumers would get 100 times more throughput. Its management also believes that 5G networks will have five times faster response time, ten times longer battery life, 100 times the network throughput, and 1,000 times more network capacity per spectrum.
Verizon is thus actively testing fixed wireless broadband use cases for 5G in 8 out of 11 markets. The 5G trial results should be available by the end of 2017, which would give the telecom company valuable insights for commercial deployments.
AT&T and 5G
AT&T (T) is also aiming to be a key player in the 5G market. In the past, AT&T has tried to outbid its rivals to gain spectrum advantage. In 2015, during the AWS-3 spectrum auction, AT&T emerged as the top bidder, acquiring spectrum worth $18.2 billion.
After 2008, the AWS-3 spectrum auction was an extensive auction conducted by the FCC (US Federal Communications Commission). As showcased in the above graph, Verizon and T-Mobile (TMUS) were big auction participants, with winning bids of $10.4 billion and $1.8 billion, respectively.